Smart buoy prevents fishing gear loss
S. Himmelstein | November 22, 2021
The economic and environmental tolls associated with lost commercial fishing nets may be stemmed with the advent of a sensor system that provides real-time tracking and monitoring of deployed fishing gear.
Engineered by California-based Blue Ocean Gear, the Farallon Buoy can be tied onto nets and other gear such as lobster traps and longline fishing lines. An integrated saltwater immersion sensor automatically powers it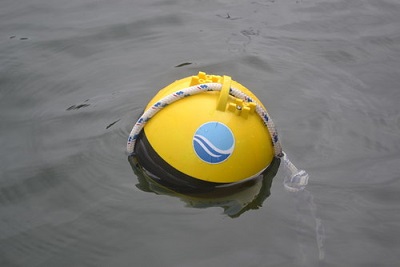 The buoy transmits its GPS coordinates if moved beyond a set geographical radius. Source: Blue Ocean Gearup as soon as it hits the water, where it proceeds to float on the surface. The smart sensor is equipped with a microprocessor, a GPS chip, an accelerometer, water temperature and depth sensors, and Iridium satellite and long-range open-band radio modules. Power is provided by a nickel-metal hydride battery that delivers 10 months of operation per charge.
If the sensors detect that the equipment has been relocated due to a storm, snagged and dragged by a ship or otherwise transported beyond a set geographical radius, an SMS alert is transmitted to the user's smartphone via both satellite and radio. After accessing the alert on an iOS app and a cloud-connected web interface, the user can then travel to the attached net's present location and retrieve it.