Video: Wilo-Stratos unveils the GIGA2.0 — The first smart glanded pump for HVAC applications
Diana Aoun | November 23, 2021
Building services pump system provider Wilo-Stratos has unveiled one of the first smart glanded pumps on the market, the Wilo-Stratos GIGA2.0. A reliable supply is essential in building services, particularly large buildings, where high-volume flows often need to be conveyed with high delivery heads to provide the required heating and cooling capacity. The Wilo-Stratos GIGA2.0 smart glanded pump features several interfaces that enable multi-pump control, can be easily integrated into building automation systems, and has advanced data acquisition capabilities as well as state-of-the-art options for mobile access via Wilo-Smart Connect.
Wilo-Smart Connect enables the pump to be configured and operated via Bluetooth using mobile devices. It also allows the pump to communicate through a range of established bus protocols, including an Ethernet interface for BACnet IP and Modbus TCP.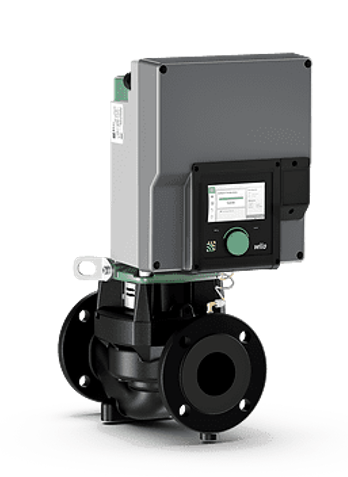 Source: Wilo
This system enables smart Wilo products to be monitored and operated remotely via the Wilo app — the "Wilo Assistant." Wilo-Smart Connect provides access to the pump's operating data in real time and can be read, monitored and even controlled when necessary.
Wilo-Smart Connect systems provide the ability to network pumping systems, enable transparent monitoring and convenient remote control, result in fewer on-site visits, and involve easy and convenient commissioning and maintenance activities.
This new range of smart glanded pumps consists of an in-line version, the Wilo-Stratos GIGA2.0-I, and a twin-head pump version, Wilo-Stratos GIGA2.0-D. The Wilo-Stratos GIGA2.0-I features Green Button Technology for easy and precise commissioning, and a large display which enables simple, intuitive operation.
Thanks to the intelligent interaction of IE5 EC motor technology with proven pump hydraulics (MEI ≥0.7) as well as innovative control functions, the new Wilo GIGA2.0 delivers optimum energy efficiency and enhanced reliability of the overall system.