ASC launches 2020-2023 North American Market Report for Adhesives & Sealants
Engineering360 News Desk | November 18, 2021
The Adhesive and Sealant Council (ASC) has published a new 2020–2023 North American Market Report for Adhesives & Sealants in partnership with The ChemQuest Group Inc., a global business strategy and external technology development firm with focus and expertise specific to the specialty chemicals markets.
The report features in-depth interviews and uncovers buying factors, technology trends, unmet needs, growth drivers and insights into competitive joining techniques.
"This ASC market report on North America is the perfect resource to understand the global size of the adhesive and sealant market and then further understand the driving forces across important market segments, forecasted growth rates, trends with chemistry and technology and key applications and product use as well as mergers and acquisitions, regulatory drivers and trends in the retail building and construction and automotive and packaging markets," noted Steve Duren, managing director at ASC.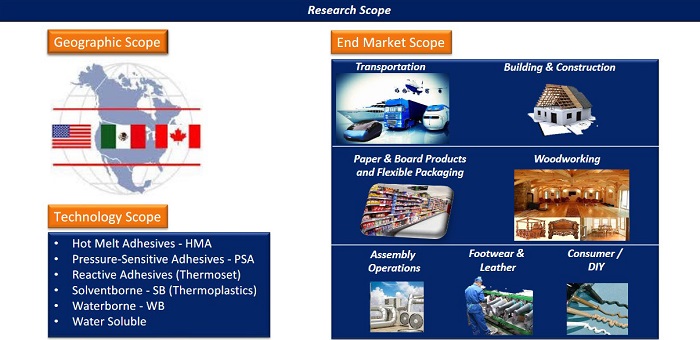 Source: ASC/ChemQuest Group Inc.
Coverage includes the scope by end market, by technology, and by geographic region (via an expanded table of contents) as well as a 2020 to 2023 overview of mega and macro trends and drivers, the competitive landscape and market dynamics. The report is a combination of quantitative and qualitative metrics that are intended to assist stakeholders in the adhesive and sealant market a reliable way to better understand and make business decisions that parallel the definitions and market segmentation used by ASC, FECIA and CATIA in the new Joint Harmonization Manual.