UBS Arena at Belmont Park sets the safety and sanitation standard for future arenas
Amy J. Born | December 15, 2021
The new UBS Arena at Belmont Park, a live entertainment venue and home of the New York Islanders Hockey Club, is designed and built with safety and sanitation protocols at the forefront. The facility, which opened to the public on November 20, 2021, combines responsive HVAC technology, sanitation solutions, contactless technologies, and adherence to a plethora of standards, guidelines and regulations for effective cleaning and disinfecting of large scale public spaces to maintain safety. The venue is able to adapt to new responses to indoor air quality challenges through operational and staffing strategies as well as through installed systems.
Direct digital ventilation controls serve the entire 700,000 square foot venue to improve the performance and reliability of space ventilation. A state of the art HVAC system will control temperature, humidity and ventilation, responding to event requirements and outdoor conditions. Efficiency and performance are balanced with MERV 13 filters in the central HVAC units — the standard for public buildings. The system will modulate outdoor air flow according to occupancy, outdoor conditions and evolving health guidelines. A dedicated engineering team will be on hand to monitor HVAC systems in real time to ensure that all spaces are provided with the intended ventilation.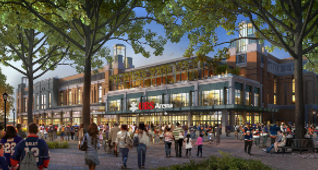 NE Entrance. Source: UBS Arena
Following the guidance of health and engineering consultants, the building utilizes protectant and sanitizers to minimize pathogens on all surfaces. USB Arena will continue to identify effective solutions while monitoring recommendations from the U.S. Centers for Disease Control, the American Society of Heating, Refrigeration and Air-Conditioning Engineers and other health authorities.
The facility has adopted the Sharecare Health Security VERIFIED solution to support its operations with over 140 expert-validated standards across 600+ venue checkpoints. A significant investment of time has gone into partnering with health experts and local officials to examine every aspect of the guest experience. All staff receive the proper mandatory training on COVID-19 disinfection and safety protocols including proper hygiene, hospitality etiquette, personal protective equipment usage, COVID-19 symptoms reporting protocols, and more.
Smart technology and contactless experiences will further advance UBS Arena's health and safety strategies. This includes mobile ordering grab-and-go food and beverages, cashless checkout options and restrooms with touchless fixtures and dispensers. Even parking on site will be cashless and contactless.
In accordance with New York State Department of Health's COVID-19 health and safety guidance, UBS Arena guests ages 12 and older will be required to present proof of full vaccination status or proof of a negative COVID-19 test in order to enter.
The $1.1 billion multi-purpose, state of the art arena has plans to host more than 150 major events annually. In addition to the most up-to-date health and safety protocols, the venue promises an unsurpassed guest experience with clear sightlines, premier acoustics, advanced technology and a number of amenities. UBS Arena intends to be carbon neutral for operations before 2024.