The new ZEV-R zero emission valve delivers precision control and small environmental footprint
Diana Aoun | November 09, 2021
Mokveld valves recently introduced what it is calling the world's first truly zero emission control valve. The new ZEV-R eliminates fugitive emissions, leakages and other losses while delivering accurate control and zero dead times. The ZEV-R control valve utilizes environmentally sound technology to not only eliminate emissions but also reduce power consumption, allowing users to significantly reduce their environmental footprint.
In this latest addition to Mokveld's portfolio, the valve producer takes the innovative design features of its axial flow control valve to the next level. The ZEV-R incorporates an internal actuator to remove the need for dynamic packing seals, thereby eliminating the main leak path seen in traditional valve designs. Furthermore, Mokveld only uses static seals to atmosphere, ensuring that process fluid is not in direct contact with these static seals. Without shaft seals and body joints unintentional leaks are impossible across the entirety of the valve's service life.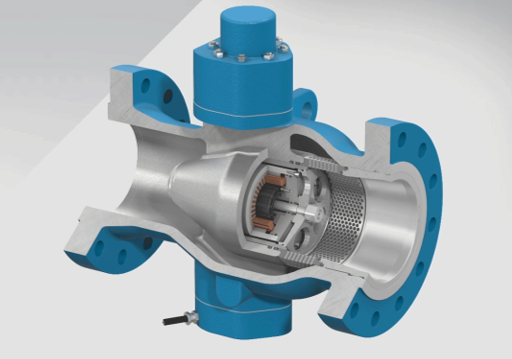 Source: Mokveld
Another notable design feature of the ZEV-R is its low weight and compact design, which further reduce the valve's lifecycle environmental footprint. Mokveld has also engineered the valve with a streamlined flow path through the full port expanded body, thus preventing erosion and vibration. Thanks to this inherent high capacity, smaller valve sizes can be used.
Along with zero emissions, the new ZEV-R comes with the highly efficient and accurate technology of the servo actuator which delivers positioning with unparalleled precision. This combined with the superior turn down ratio of the axial flow control valve provides a very large operating envelope. With a virtually zero dead time, controllability is further enhanced, with valve movement beginning as soon as a signal change is given.
The new ZEV-R complies with a range of international standards including ISO 15848-1, and is highly effective for systems containing volatile air pollutants, volatile organic compounds, hazardous fluids, etc. With minimal power requirement during movement and near zero power required when stationary the ZEV-R is an ideal choice for remote locations, such as sites which are solar powered or those which rely on uninterruptible power sources.