The Insta-Valve 20-24 from Hydra-Stop delivers a flexible on-the-spot solution
Diana Aoun | November 09, 2021
The new Insta-Valve 20-24 by Hydra-Stop provides flexibility for applications that require a quick and easy solution while ensuring reliability and performance. The Insta-Valve is a permanent, insertable gate valve that is designed to avoid system shutdown and significantly reduce the cost of maintenance. The Insta-Valve can be easily installed through a traditional line tap which eliminates the need for milling or removing a section of pipe.
The Insta-Valve is suitable for 20-inch to 24-inch pipes (DN 500 mm and 600 mm) and due to its trouble-free installation mechanism, can be installed within one workday. The valve features a ductile iron construction with fusion-bonded epoxy coating to create a corrosion-resistant barrier and maximize service life. The stainless-steel hardware also enhances corrosion resistance, providing superior performance while further increasing valve longevity.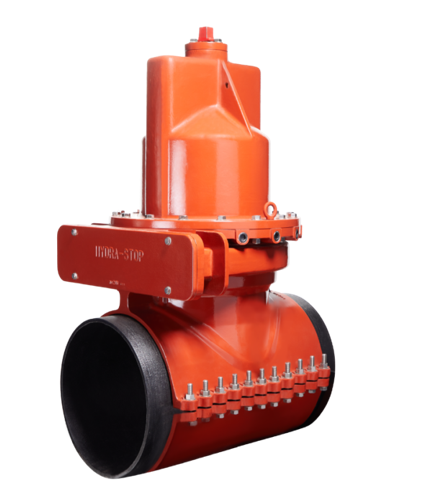 Source: Hydra-Stop
Another notable design feature of the new Insta-Valve is the specially engineered valve cartridge for superior sealing. The valve cartridge has a mechanically actuated, resilient wedge that expands to provide a drip-tight seal with minimal torque.
Installation is accomplished through a traditional line tap and does not require milling or the need to ream or sever the pipe. This also provides the additional benefit of system evaluation during the installation process and once the valve in installed and pressure tested, there is no need to move or readjust it.
The Insta-Valve can be a permanent and reliable addition to any water or wastewater distribution system, providing site-specific system control. The valve has a working pressure of 150 psi (10 bar) and can be installed on ductile iron and cast iron pipes.