The BLUEline Nova rotary lobe pump from Borger delivers unrivaled volumetric efficiencies
Diana Aoun | October 27, 2021
The new Blueline range of Nova rotary lobe pumps from Borger can deliver unparalleled volumetric efficiency thanks to the outstanding rotor-casing combination. The Blueline Nova produces nearly pulsation-free, gentle pumping of sensitive media and promises smooth running even at high pressures. The pump also features a large intermediate chamber for maximum choice of sealing systems.
Using Borger's innovative new DIUS rotors in the flow-optimized pump chamber along with an optimized pump gear unit ensures perfectly smooth running even at high pressures. By precisely matching the geometries of the pump chamber and the rotors and ensuring a wide sealing surface that prevents fluid backflow, the Blueline Nova guarantees unmatched volumetric efficiencies as well as superior suction performance.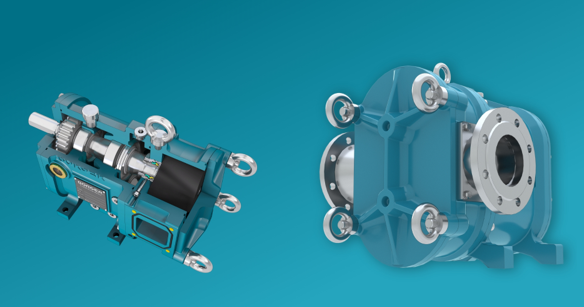 Source: Borger
Irrespective of having a stainless steel or elastomer construction, the DIUS rotor does not require a cover disk. The integrated O-rings prevent the basic core of the elastomer rotor coming into contact with the pumped medium. This also ensures the pump shaft remains dry, therefore maximizing service life and facilitating simple cleaning.
The large seal chamber provides adequate space for different sealing systems. The system adapts perfectly to the requirements of the pumped medium, whether for quenching, flushing or buffering. This further enhances pump longevity and maximizes productivity. Borger also facilitates the use of special seals from other manufacturers for specific applications upon request.
The Blueline Nova can be manufactured according to the European ATEX guidelines (2014/34/EU) for use in potentially explosive atmospheres. In addition, an API-676-compliant design, production that complies with U.S. Food and Drug Administration regulations, or a technically tight pump design that complies with the German TA Luft requirements, are possible.
The Blueline Nova pump can be used across a wide range of applications thanks to the large range of rotors as well as flow rates of up to 1,600 m³/h (7,000 gpm).