Chesterton gel-like industrial lubricant protects chains, cables and gears under high pressure
Engineering360 News Desk | October 22, 2021
Chesterton, a developer of solutions that enhance industrial reliability, has created a new lubricant specifically suited to chains, cables and gears subjected to extreme load, water and corrosive conditions.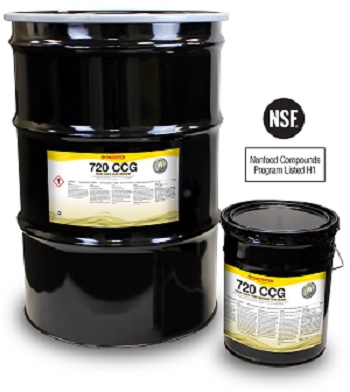 Source: ChestertonChesterton 720 CCG is a polymer modified synthetic lubricant that resists water and corrosion. It does not drip or extrude like conventional oils and greases, thus reducing potential for contamination. 720 CCG forms a robust "wear shield" on chains and cables that stays in place under the most extreme pressure. Since contact surfaces are cushioned, the life of these assets is extended.
720 CCG is ideal for processing and packaging machinery and can be used in all facilities where NSF H1 certification is required. The product can be applied manually by squeeze bottle, brush or trigger spray. 720 CCG can also be used in automatic dispensing equipment for continuous application, remote locations and large production equipment.