Watch this animation of DOE's direct-feed waste treatment process
S. Himmelstein | October 22, 2021
The U.S. Department of Energy's (DOE's) Office of Environmental Management (EM) has released an animated video of the Direct-Feed Low-Activity Waste (DFLAW) Program at the Hanford Site near Richland, Washington. The video depicts the integrated procedure for treating Hanford's radioactive tank waste, a process EM says is a key component of its strategic cleanup vision.
Direct-feed means that the tank waste will be separated to remove solids and cesium, then fed directly to the Waste Treatment and Immobilization Plant's Low-Activity Waste Facility for vitrification, a process that will immobilize the waste in glass. About 90% of the 56 million gallons of waste stored in Hanford's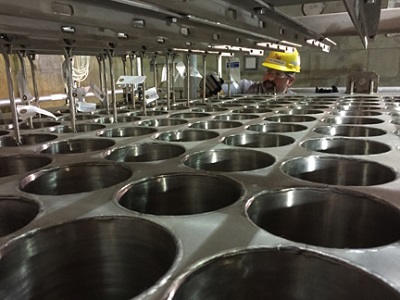 A sequenced approach will soon start treating low-activity waste. Source: DOEunderground tanks is low-activity waste.
As the animation shows, the DFLAW process starts with tank retrievals and runs through final disposal in the Integrated Disposal Facility, Hanford's on-site engineered landfill. According to EM, the animation will be used to educate the public, stakeholders and employees on how the process to treat tank waste through the DFLAW program works, from start to finish.
After vitrification in two 300-ton melters, the material will be placed in low-activity waste containers and stored on the Hanford Site in permitted trenches and covered with soil. The facility will annually produce approximately 1,100 containers.