Tools for fastening steel I-beams and wood in residential construction
Engineering360 News Desk | October 20, 2021
While antiquated and potentially explosive, powder-actuated fastening tools are still an extremely common solution for a range of construction activities, such as wood-to-steel framing; an application often used in the construction of luxury homes. Though common, contractors need to be aware of the special requirements and safety protocols necessary for the use of powder-actuated tools (PATs) on active job sites.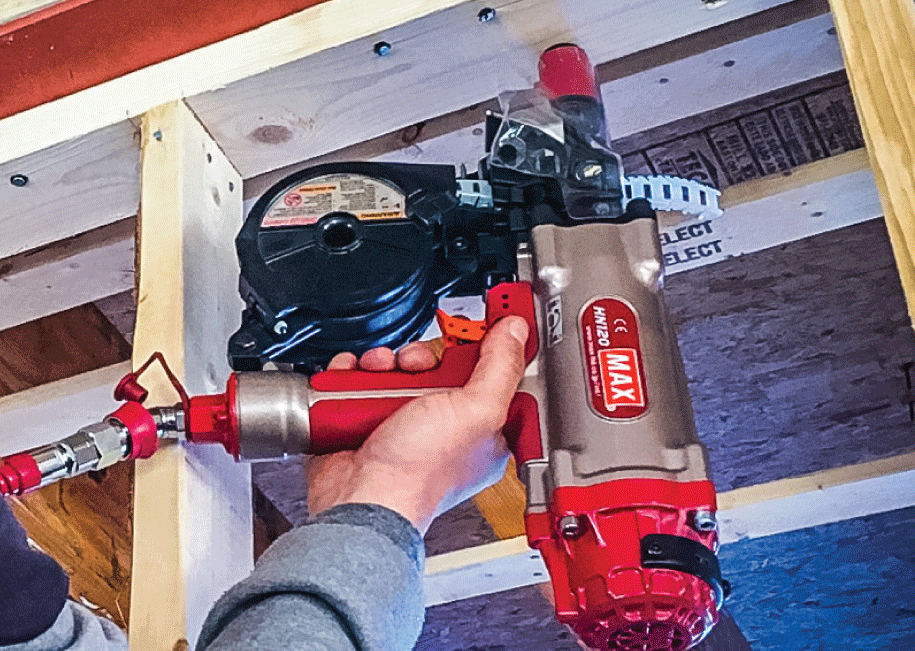 Source: Max USA
Due to these safety concerns surrounding PATs, their manufacturers offer certificate and licensing programs to train operators on proper operation and maintenance of the tools. A key point to remember about PATs is that they function like loaded guns. When their highly explosive powder propellants actuate, the tool fires a pin. But what happens if it doesn't? In the event a PAT misfires, the explosive cartridge needs time to cool off to reduce the likelihood that the unused cartridge will explode or accidentally discharge. After 30 seconds, it is "safe" to discard the load in a bucket of water as per the manufacturer's instructions.
Engineered to perform at a higher standard, PowerLite system tools can easily be used as a replacement for powder-actuated tools for fastening wood-to-steel i-beams. The PowerLite system can also fasten engineered woods such as laminated veneer lumber and laminated strand lumber, wood to concrete, steel to concrete and steel to steel.
Through this invention, pneumatic tools became much more versatile. The PowerLite system can shoot pins three times faster than powder-actuated tools. Pins for PowerLite tools come in 50 or 100 pin coils; unlike the single or 10 shot strips PATs offer, and they don't require powder loads to actuate. The PowerLite system works 100% pneumatically. As long as the PowerLite compressor is plugged in, the tool will work seamlessly with no need to stop and replace or charge batteries.
PowerLite tools are extremely powerful, yet their size is up to 40% smaller and up to 30% lighter than conventional 100 PSI tools. The MAX PowerLite system provides a hassle-free pneumatic solution for which no license or certification is needed to operate. Because air is used to power the tools, there is no need for warming or cooling of the environment in order to maintain PowerLite system performance.
Read the full breakdown and product details to learn more.