AWB names Vaughan Company 2021 Manufacturer of the Year
Engineering360 News Desk | October 11, 2021
Vaughan Company. of Montesano, Washington, was named the 2021 Manufacturer of the Year by the Association of Washington Business (AWB).
Company founder Jim Vaughan invented the world's first chopper pump in 1960 to prevent the pumps at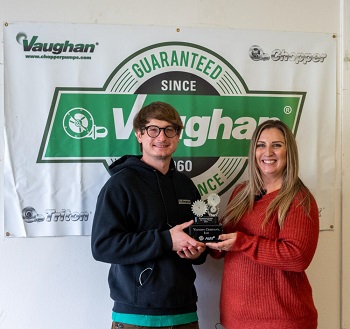 Vaughan Company officials accept the 2021 AWB Manufacturer of the Year award. Source: Brian Mittge/AWBlocal dairy farms from clogging and breaking down. The technology breakthrough led to dozens of patents and formed the foundation of a company that now employs 115 people and sells products in 92 countries.
"The Vaughan Company exemplifies the spirit of innovation and problem-solving that drives that drives Washington manufacturers," said AWB president Kris Johnson. "Someone saw a problem and found a way to solve it. More than 60 years later, the company employs third- and fourth-generation family members and remains the industry leader."
AWB's Manufacturer of the Year Award is given to a company that has a commitment to manufacturing excellence, has found creative solutions to challenges, as well as involvement in public policy that impacts manufacturers.