M8 snap-in cable connectors simplify safe signal transmission in sensor-actuator applications
Engineering360 News Desk | October 07, 2021
Industrial circular connector manufacturer Binder is adding to its 718 product series with new snap-in quick locking, over-molded M8 cable connectors designed for installations in sensor and actuator applications.
In addition to three and four pins, the connectors are now also available in five and six pin versions with either polyurethane or polyvinyl chloride cables at standard lengths of up to 2 m or 5 m. The space-saving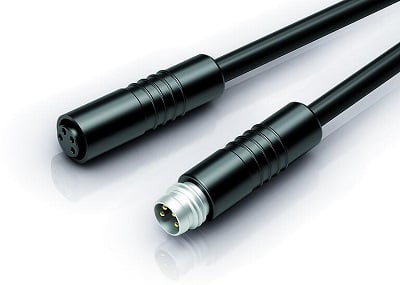 Source: Binderconnectors meet the IP65 protection degree requirements when mated. Contacts are gold-plated brass for male and bronze for female contacts and support in excess of 50 mating cycles.
With rated voltages between 30 V and 60 V, the products are suitable for rated currents of 1.5 A to 3 A, depending on the wire gauge and number of pins: three and four pin versions are specified for 2 A (0.14 mm2 wire gauge) and for 4 A (0.25 mm2, 0.34 mm2 and AWG 22), respectively; five and six pin versions for 3 A and 1.5 A, respectively.
The components withstand rated impulse voltages of 1500 V (three and four pin) and 800 V (five and six pin), and all connectors in the series operate reliably at temperatures from -40° C to 70° C in static condition.