Urban air quality monitoring on the move
S. Himmelstein | October 06, 2021
A mobile approach for monitoring the influence of complex urban microclimates on air quality is being field-tested by U.S. Brookhaven National Laboratory (BNL) researchers.
An instrument-laden pickup truck serves as a mobile laboratory capable of documenting heterogeneous trends in air temperature, rainfall and air quality at different urban and suburban sites. Initial tests in the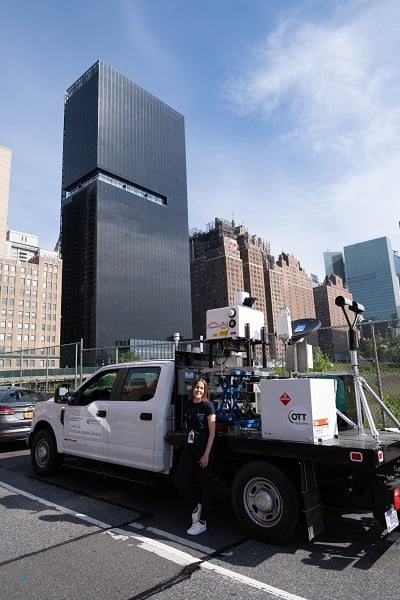 The mobile observatory recently collected data in Manhattan, where BNL researcher Katia Lamer and colleagues sought to understand how air flows around skyscrapers. Source: BNLNew York City metropolitan area deployed scanning Doppler lidar while the truck was parked to gauge air flow around skyscrapers. Wind and temperature measurements were also recorded while the lab, equipped with navigation system, computers, routers and generators for autonomous operations, was in motion between the BNL campus on Long Island and lower Manhattan.
"The use of multiple remote sensors exchanging data in real time through a high-speed internet signal is a new way of operating lidars for improved pointing accuracy," explained Katia Lamer, a research associate in BNL's Environmental and Climate Sciences Department. "This significantly helps with collecting data between buildings, which otherwise would completely block our instrument signals.
"We want to get a good idea of the city's heterogeneity. We don't expect the atmosphere to be the same in Long Island, Central Park, and Times Square, for example. Cities create a heat dome, somewhat like a bubble over the whole city, because they are so hot compared to surrounding areas. By collecting temperature observations across Long Island and Manhattan, we can try to observe the boundaries and characteristics of this heat dome."
The researchers plan to demonstrate the utility of this mobile measurement method in other urban centers and to expand the types of climatic and atmospheric parameters monitored.