Video: Offshore wind turbine spins at 14 MW
S. Himmelstein | October 06, 2021
The Haliade-X 14 MW prototype offshore wind turbine installed in the port of Rotterdam, the Netherlands, by GE Renewable Energy has started operating at 14 MW. This uprated version of the Haliade-X 13 MW, which received its type certification in January 2021, can generate up to 74 GWh of gross annual energy production, saving up to 52,000 metric tons of carbon dioxide, which is the equivalent of the annual emissions generated by 11,000 vehicles.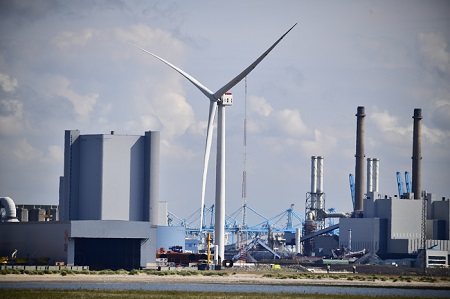 Source: GE Renewable Energy
The capacity to produce more power from a single turbine means fewer units need to be installed at each wind farm. In addition to less capital expenditure, this also simplifies operations and maintenance, improving the affordability and accessibility of renewable energy for consumers.
The Haliade-X 14 MW will make its commercial debut at the Dogger Bank C offshore wind farm 130 km off the north-east coast of England. GE Renewable Energy will provide 87 wind turbine units for this phase of the project, which, together with Dogger Bank A and Dogger Bank B, will become the largest offshore wind farm in the world upon completion.