The all new MZC-II rotary valve from DMN Westinghouse with superior cleanability
Diana Aoun | October 04, 2021
DMN Westinghouse has set a new standard of hygiene, cleaning and safety with its new MZC-II rotary valve for hygienic applications. The new rotary valve features enhanced access with unique openings on both ends of the valve for an unprecedented level of cleanability and safety. Improved design features, such as the unique shape of the drive shaft, allow the rotor to self-align with the drive side, and the rotor can be released with the simple pull of a lever for deeper cleaning.
The new MZC-II makes it easier than ever to remove trace powders and residues. The double-sided openings of the valve allow maximum access to the valve internals, facilitating easy opening, inspection, deep cleaning (including end-cover and spigot) and closing of the valve. The intelligently designed storage points for disconnected tubing with quick-release air connections further facilitate cleaning and maintenance.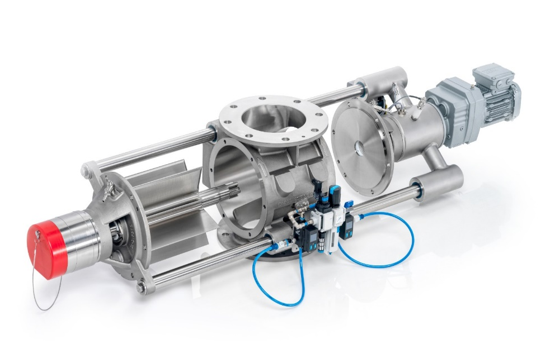 Source: DMN Westinghouse
Thanks to the unique shape of the drive shaft, the rotor stays perfectly aligned with the motor, automatically fitting into place when sliding back inside. The imbedded precision alignment mechanism enables rotation of the rotor for thorough cleaning, and for added cleanability and flexibility, the rotor can be safely extracted with the simple use of a lever and placed in a specially designed 'cradle'.
The MZC-II rotary valve not only improves hygienic conditions but delivers enhanced functionality, simplified maintenance, productivity and safety. The MZC-II significantly reduces the risk of downtime associated with damage and adjustment problems inherent to the dry bulk industry including pharmaceuticals, food processing, dairy and cosmetics.