The Type 4030: Ball sector motor valve for superior performance in harsh environments
Diana Aoun | October 04, 2021
The Type 4030 ball sector valve from Schubert & Salzer has been designed for superior performance with enhanced seat seals, reduced wear, low maintenance and extended service life. The 4030 is particularly reliable in demanding applications including slurries, dry media and fluids with suspended solids or fibers.
The Type 4030 ball sector valve is suitable for control and isolation and comes with pneumatic and electrical actuators, delivering precise control and superior reliability. Unlike conventional butterfly and segmented valves which expose their critical sealing components to extreme wear in the closed position, the unique design of the 4030 ball sector valve ensures that the seat seals through a surface part that is less exposed to wear to avoid abrasion and leakage. In addition, the sealing surface is not exposed to high flow velocities. This all leads to a significantly extended service life of the 4030.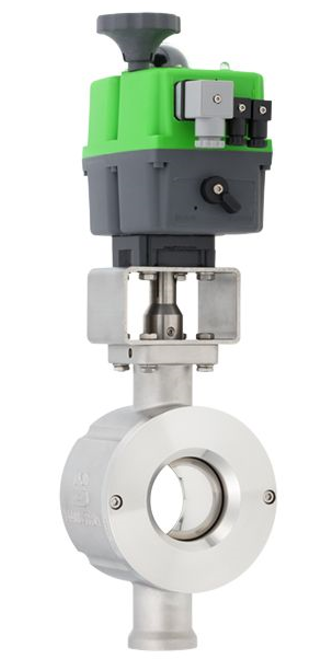 Source: Schubert & Salzer
Conventional ball or rotary globe valves generally use eccentric shafts, which cause the ball or plug to lift up from the valve seat when starting to open. This instantly exposes the sealing areas to wear and causes build-up of particulate matter between the seal ring and ball/plug, causing damage that leads to valve leakage. The 4030 valve on the other hand features centric and robust trunnions which enable the ball sector to be in constant contact with the valve seat, eliminating contamination by the media.
This smart seal design (and wide selection of seal materials), precision radius ball sector and valve seat substantially increase valve service life in comparison to butterfly valves or similar. This makes the 4030 particularly suitable for abrasive, high viscosity or fiber-containing media.
The Type 4030 ball sector valve is available in DN 25 up to DN 300 (1 to 12 inches), with an all-stainless-steel construction and can handle media temperatures of -40° C up to 220° C (-40° F to 428° F) depending on the valves sealings.
The Type 4030 ball sector motor valve demonstrates superior control of neutral and aggressive fluids as well as abrasive media. It comes with an integrated valve positioner and easily exchangeable seat ring. The 4030 has low maintenance requirements, is efficient and easy to install, and can be easily fitted with control, on/off, or 3-point actuators.
The Schubert & Salzer Type 4030 ball sector valves delivers outstanding performance in difficult operating environments across a broad range of industries and process applications including pulp fiber and digestive liquors, mining slurries, dry powders, molasses, sugar slurries, limestone and fly ash suspensions, combustion gases, coke gases, steam and more.