IVEC Systems introduces the new E-Z Gates for the control of air, fumes and dust
Diana Aoun | October 04, 2021
IVEC Systems recently introduced its new E-Z gates for the control of dust collection systems and regulation of air loaded with dust and fumes. The electric, not pneumatic, gate valves negate the need for compressed air, therefore eliminating the costs associated with maintaining a compressed air system. In addition, downtime and maintenance costs associated with the corrosion caused by moisture within compressed air systems are avoided.
E-Z gates feature a welded body and structural supports that resist deformation even under large external loads and 100 in. WC of vacuum pressure and delivers more reliable performance in comparison to structures built with bolts and nuts that may loosen over time. The new E-Z gates features are 30% smaller and 10% lighter than their predecessors and can be installed horizontally or vertically whilst a more rigid gate ensured a true seal is maintained consistently.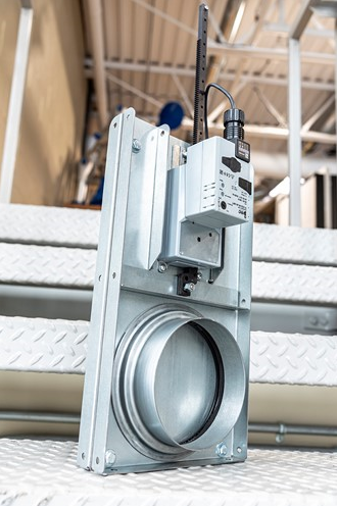 Source: Ivec Systems
The uniquely engineered blade and seal design eliminates blade pinching and prevents particulate build-up that typically obstructs the opening and closing of other gates.
When paired with IVEC system controls, the E-Z Gate has a 40% faster response time than previous models. IVEC controls automatically open and close the gates, minimizing energy usage and motor wear, while optimizing system performance by conserving air volume and allowing air to be diverted to the most focused areas. The E-Z gate and IVEC control combination optimizes system operation to significantly reduce overall cost.
The IVEC E-Z Gates come in a wide selection of sizes and settings to suit the specific requirements of the dust collection or fume venting system. Another notable feature is the automatic functionality of the dampers which further eliminates unnecessary energy usage, while simultaneously maximizing dust and particle extraction.
Options include electric with overload protection or manual gates, in galvanized or stainless steel for dry or mist conditions. Pipe connection options include raw metal edge, flanged, or rolled lip adapters. The new E-Z gates form IVEC are suitable for fumes and large particulate matter as well as mist generated from machining, grinding, polishing, cutting, welding and other industrial processes.