Siemens advanced actuator line for small valves delivers greater flexibility and control
Diana Aoun | October 04, 2021
The SSA actuators for small valves from Siemens feature a range of new functions that deliver enhanced control accuracy, reliability and energy efficiency for hydronic room applications. The state-of-the-art actuators enable improved installation flexibility thanks to a compact design, IP54 protection rating and an LED display that provides a superior user experience. Siemens has also included a new feedback signal feature for applications where safety is critical. The new SSA line is particularly ideal for noise sensitive applications thanks to less than 28 dB noise level.
The Siemens SSA actuators have been uniquely designed for quiet, fault-free operation with a manual override to facilitate valve and actuator testing. The IP54 protection rating enables all installation directions, including overhead installations, for added flexibility. The newly added KNX communication capability enables installation across a wider range of applications such as communication with room thermostats and other room automation stations as well as simple connection with control units.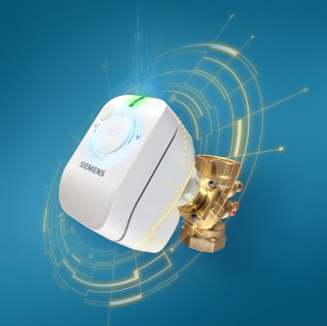 Source: Siemens
Automatic hub adaptation guarantees that every valve-actuator combination is accurately matched and all SSA actuators are pre-configured and ready for installation. The user-friendly LED status display facilitates fast, trouble-free commissioning. The display shows valve position as well as various operating states and assists users with different functions, such as self-calibration. Self-calibration provides automatic stem end position recognition to ensure the actuator always fits the valve correctly, leading to precise regulation and energy savings.
Siemens has also provided users with customized options to suit the requirements of their applications. For example, users can choose between a basic and a premium version of the SSA with feedback signal and manual adjustment. The feedback signal allows for early fault detection and fast elimination of irregularities therefore preventing system downtime.
As one of the quietest products in its class, with a less than 28 dB noise level in the 'night mode' operating mode, the SSA is ideal for silent applications, particularly in hotels, hospitals and libraries. With 100% backward-compatibility, SSA actuators can easily replace older actuators without the need for system shutdown.