Video: An alternative to traditional metal armored cable
S. Himmelstein | September 28, 2021
The new OptiTuff mini fiber cable solution from Belden offers an effective alternative to metal armored cable, with no grounding or conduit required.
The cable features fewer layers than more traditional options, making it easy to install in small spaces and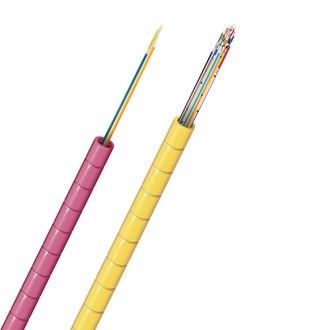 Source: Beldenraceways. The crush-resistant cable composed of ruggedized thermoplastic material is up to 90% lighter and 70% smaller in diameter than metal armored cable, and up to 50% smaller in diameter than non-armored cable.
Anti-kink properties and a small bend radius provide the flexibility needed to handle tight and challenging turns with no problems in small spaces and cable trays. Pull and crush tests confirm that the cable can withstand the weight of a 31 lb data center tile being dropped on it as well as that of a 9,000 lb forklift driving over it.
The mini fiber cable is ideal for use in passive optical LAN, passive optical network, fiber to the x and data center applications.