The new DuraCirc piston pump delivers supreme performance in hygienic applications
Diana Aoun | September 28, 2021
The new DuraCirc circumferential piston pump from Alfa Laval offers enhanced performance, simplified service and state-of-the-art design features that exceed the demands of hygienic applications. The latest addition to Alfa Laval's hygienic pump portfolio not only delivers high volumetric efficiencies but conforms with EHEDG standards and has 3-A approval, along with a range of user-friendly features for streamlined maintenance and service.
The DuraCirc features a robust, heavy-duty all stainless-steel construction for reliability and durability. The advanced pump design has resulted in a very low net positive suction head requirement that substantially reduces the risk of cavitation, maintains media integrity, and provides flexibility in the event of fluctuating process conditions.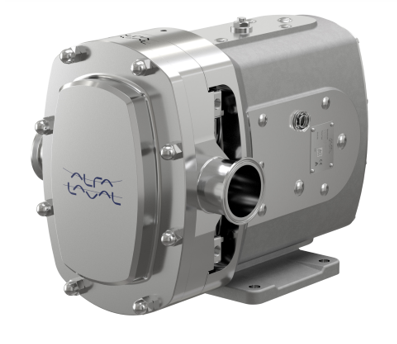 Source: Alfa Laval
Durable, heavy-duty bearings support large diameter shafts located in a solid stainless steel gearcase, minimize shaft movement, and facilitate close pump-head clearances therefore maximizing uptime. Seal conversion is made easy thanks to the modular seal design negating the need for re-machining or additional flush housings in the event of process or application changes.
The DuraCirc is one of the first circumferential piston pumps that delivers advanced cleanability meeting international standards for hygienic design, without sacrificing volumetric efficiency. Alfa Laval offers 13 models within a wide performance envelope with flow rate capabilities of up to 150 m3/hr (660 gpm) and operating pressures up to 40 bar (580 psi). Hygiene is maintained with various design features including U.S. Food and Drug Administration (FDA)-compliant elastomers that are product-wetted and have a defined compression, long-lasting, FDA-compliant gearbox lubricant, and an optimized seal design with faces fully immersed in the pumped media for higher cleaning efficiency.
In terms of serviceability, standard maintenance procedures are carried out quickly and easily without the need for gearbox disassembly or any complex component rebuilding. A front-loading, self-setting single mechanical seal enables efficient in-situ replacement without the need for pump removal. Easy access and replacement of pump rotors and external shimming, long life bearings, and a single, long-life, FDA-approved gearbox lubricant further streamline pump servicing.