Video: Compete in the inaugural AIPH World Green City Awards
S. Himmelstein | September 16, 2021
Municipalities worldwide are invited to showcase their nature-oriented urban design features by submitting entries to the World Green City Awards 2022 presented by the International Association of Horticultural Producers (AIPH). Inspired by the growing importance of greening urban areas, the competition is the first global city awards event to focus on the inclusion of plants and nature.
The event seeks to recognize public initiatives relying on a greater use of plants and nature to improve city environments. Awards are offered in six categories in addition to one overall AIPH World Green City winner:
Health and wellbeing: Addressing the medical, behavioral and social determinants of health for residents.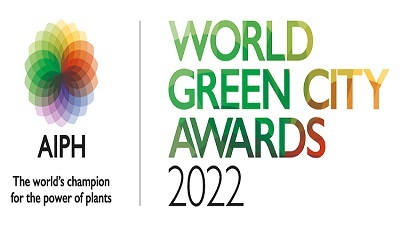 Source: AIPH
Climate change: Tackling the root causes and effects of climate change in order to build more livable and resilient cities.
Economic recovery and inclusive growth: Creating systems and solutions that allow all city residents to overcome economic distress and thrive.
Biodiversity: Addressing the loss of species, habitats, ecosystem health and genetic diversity.
Water: Ensuring water resources are safeguarded and wisely used, with clean water available to all while also protecting residents from flooding risks.
Social cohesion: Fostering belonging, trust and inter-generational as well as cross-cultural relationships to prevent exclusion, marginalization and violence.
Entries must be strategic in nature, such as a policy and/or a program leading to the delivery of a collection of related projects rather than a single project, and will be evaluated according to five criteria: strategic initiatives that are bold, that pursue a meaningful impact, are being successfully implemented, that have potential to further scale or spread to other cities, and exemplify resilience in how they are conducted.
To enter, city administrators should create a free, online profile at the AIPH website, before answering a series of questions about their initiative and providing supporting documentation. All entries must be completed and submitted by March 14, 2022, and accompanied by a declaration of support signed by the city's legal representative, such as a mayor, deputy mayor or other senior political administrator.