An offshore wind turbine of mammoth size
S. Himmelstein | September 16, 2021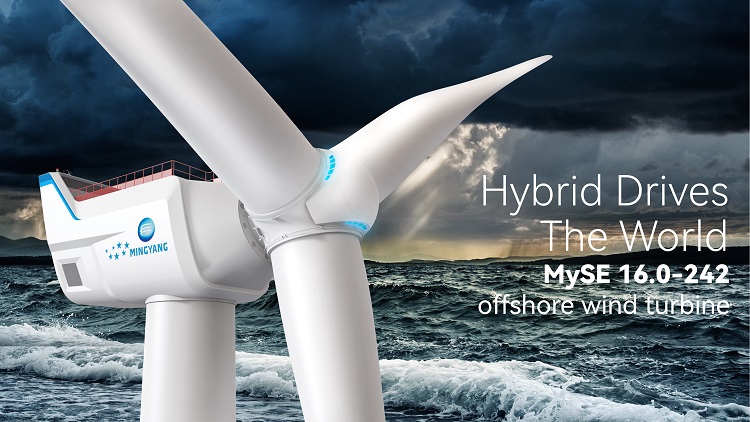 The world's biggest offshore wind turbine will be capable of powering 20,000 homes. Source: MingYang Smart Energy
Wind turbine design engineers adhere to "the bigger the better" principle, as evidenced by the steady expansion in turbine dimensions. The design of the world's largest hybrid drive wind turbine was recently unveiled in China: the 16 MW MySE 16.0-242 from MingYang Smart Energy.
With that capacity output and a height of 264 m, the MySE 16.0-242 takes the title of world's largest away from the 14 MW Siemens Gamesa Renewable Energy SA SG 14-222 DD offshore direct drive wind turbine. The new system is reportedly capable of powering 20,000 homes per unit over a 25-year service life, and the 242 m-diameter rotor with three 118 m-long rotor blades of the prototype scheduled to be demonstrated in 2023 will sweep a 46,000 m2 area, which is bigger than six soccer fields.
Each MySe 16.0-242 is expected to generate 80 GWh of electricity annually and to eliminate more than 1.6 million tons of carbon dioxide emissions over the course of its lifespan, making it a strong contributor to achieving carbon neutrality goals. Designed for high-wind IEC IB including typhoon-class IEC TC for floating as well as seabed-mounted applications, the hybrid drive wind turbines feature the company's medium-speed planetary gearbox with load sharing and forced high precision main bearing lubrication. Power electronics and medium voltage transformers are located in the nacelle to simplify cabling and system maintenance.
Commercial production is slated to begin in the first half of 2024.