Efficiency breakthrough for thin film photovoltaics
S. Himmelstein | September 14, 2021
Researchers from the Fraunhofer Institute for Solar Energy Systems (ISE), Germany, report achieving a record conversion efficiency of 68.9% with a gallium arsenide (GaAs) photovoltaic cell under monochromatic laser light. For this, the research team used a very thin photovoltaic cell and applied a highly reflective, conductive mirror on the backside.
The semiconductor photovoltaic was exposed to laser light of 858 nm, resulting in the highest efficiency documented to date for the conversion of light into electricity. This advance was made possible with a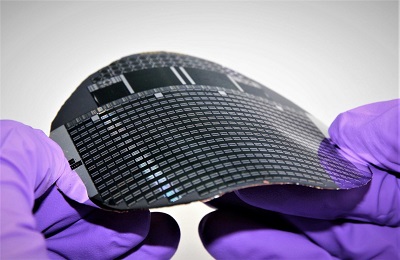 The record conversion efficiency of 68.9% was achieved under monochromatic laser light with a new thin film photovoltaic cell based on gallium arsenide. Source: Fraunhofer ISE/Henning Helmersspecial thin film technology in which the solar cell layers are first grown on a GaAs substrate, which is then subsequently removed. A conductive, highly reflective mirror is applied to the back surface of the remaining semiconductor structure. The thin-film mirror contains photons within the photovoltaic cell, enabling them to be recycled so that maximum energy can be converted.
The researchers investigated thin film cells with back-surface reflectors made of gold and an optically optimized combination of ceramic and silver, with the latter showing the best results. An n-GaAs/p-aluminum-GaAs heterostructure was developed as absorber, which experiences low charge carrier losses due to recombination.
The research is published in Physica Status Solidi RRL.