Video: Demo of magnetic capture system seizing space debris
S. Himmelstein | September 01, 2021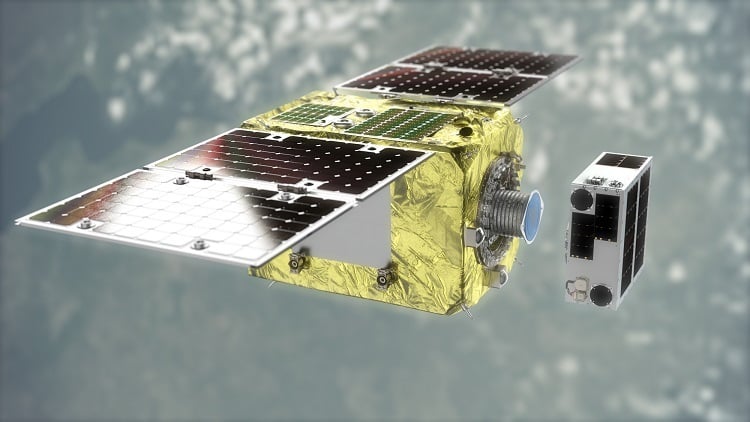 The magnetic capture mechanism includes a servicer and client module. Source: Astroscale
Private orbital debris removal company Astroscale has validated its magnetic capture system designed to tackle the problem of space debris. Its End-of-Life Services by Astroscale-demonstration (ELSA-d) servicer satellite has successfully captured a simulated piece of space junk in orbit.
ELSA-d has been in orbit since March 2021 at an altitude of about 550 km and has completed a commissioning phase during which its systems were tested and certified. The most recent phase confirmed the ability to repeatedly capture another satellite.
A core component of the ELSA-d rendezvous suite is the docking plate (DP) that provides a point of contact on the client object for the magnetic capture system and an optically controlled surface for guidance, navigation and control. The DP includes optical markers for guidance and navigation in proximity operations, and ferromagnetic material suitable for magnetic grappling. The grappling interface is designed to be mounted on a client satellite and consists of the flat, disc-shaped DP on top of a supporting stand-off structure. This system makes a defunct satellite easier to identify, assess, approach, capture and de-orbit.
Once unlocked, the magnetic capture system alone held the client to the servicer during the test, preparing ELSA-d to repeatedly capture and release the client in future demonstrations. The client was then separated from the servicer for the first time and captured to validate the magnetic capture system.
This successful validation of the ability of ELSA-d to dock with a client, such as a defunct satellite, will be followed by tests to autonomously maneuver near a non-tumbling client before capture, and then to capture a tumbling client.