Ross Controls introduces its M35 series double valves for external monitoring
Engineering360 News Desk | September 06, 2021
The M35 series valve is designed to supply air to a zone or entire machine/system until signaled to shut off and exhaust residual downstream pneumatic energy from the machine. This reduces the hazards associated with the presence of residual energy during employee access or minor servicing. The safety function of the M35 series valve is to shut off supply of pneumatic energy and to exhaust any pneumatic energy from downstream of the valve. Note that the M35 series valve cannot exhaust pneumatic energy from downstream of obstructions such as check valves and closed center function valves.
The M35 series valves are designed for external monitoring for safe, redundant operation of the valves. The M35 series valves are constructed of redundant, 3/2 poppet type valves, and have an overall function of a single solenoid pilot-operated, spring return valve. Each single valve in the M35 series valve is equipped with a solid state pressure sensor. Monitoring both of these sensors on each actuation and de-actuation of the M35 valve provides a diagnostic coverage of 99%. Monitoring of these sensors is to be done by an external monitoring system.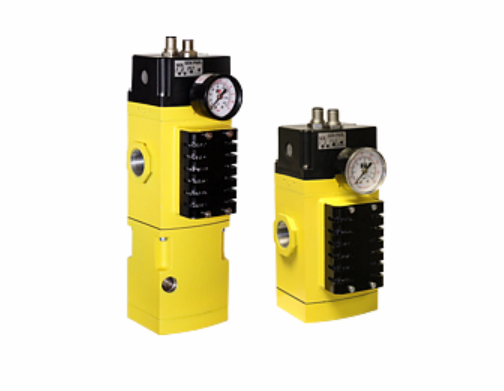 Source: Ross Controls
The function of the optional EEZ-ON (soft start) module is to, on energization, allow outlet pressure to increase at a slower than normal rate until it reaches approximately 50% of inlet pressure, at which point the valve will then open fully to finish filling the system at full flow rate. This feature can be used to lessen the shock of sudden, rapid pressurization of cylinders, and to gradually refill the system.
Features and benefits of the M35 series valve
Proven ROSS SERPAR Crossflow technology — control-reliable, Category 4, PL e applications, shuts-off and exhausts even when faulted
Pressure sensors — allow for external monitoring of valve state
Modular or threaded port connection — allows modular connection to air entry system
Integrated EEZ-ON (soft start) module option
LED indicators — aid troubleshooting
Includes high-flow, clog-resistant silencer
For more information on the M35 series valve, visit the Ross Controls' website.