3D imaging provides clear image of coral reef health
Siobhan Treacy | August 13, 2021
Researchers from Florida Atlantic University's Harbor Beach Oceanographic Institute used a 3D imaging technique to study coral reef health.
Stony coral tissue disease is lesions of necrotic tissue that spreads across coral colonies, leaving behind dead coral skeletons. This disease has contributed to substantial declines of reef-building coral in Florida, impacting over 20 species of coral. To battle the disease, conservation scientists need to implement widespread reef monitoring and novel surveys to create disease mitigation strategies.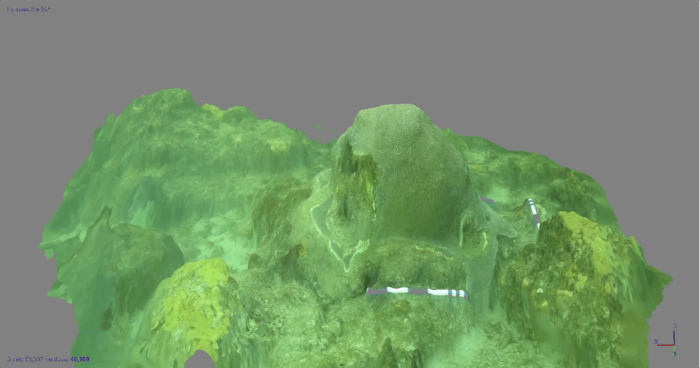 The SfM 3D rotating model can provide greater insights into the spatiotemporal dynamics and impacts of coral diseases on individual colonies and coral communities. Source: Florida Atlantic University, Harbor Branch Oceanographic Institute
Current techniques require individual evaluations and rely on visual estimates by divers in the field. These methods are limiting and expensive. The team's rapid 3D modeling technique is low cost and helps scientists gain insight into the colony and community-level dynamics of the disease.
The team adapted Structure from Motion (SfM) photogrammetry to create their modeling technique. The new SfM generates 3D models that track lesion progress and their impacts on diseased coral colonies. They combined traditional diver surveys with the 3D colony fate tracking to determine the impact that disease had on coral colonies at study sites throughout Southeast Florida.
The testing results showed that the prevalence of stony coral tissue loss disease varied across locations, but not through time. They found that St. Lucie Reef and Lauderdale-by-the-Sea sites were highly impacted by the coral disease. Juniper and Palm Beach had lower disease prevalence. The highest observed disease values were between 21% and 43%, which was seen at St. Lucie Reef. Researchers observed an increase in disease during Spring 2018. The prevalence of other diseases increased in the summer months when the water temperatures are warmer. Stony disease did not have a strong positive correlation with temperature, but the team notes that other environmental factors had an effect.
Findings indicated that total colony area and healthy tissue area on fate tracked colonies decreased over time. Disease lesions did not change in size over time and were not correlated with the total colony area. This suggests that targeting intervention efforts on larger colonies may maximize the preservation of coral cover.
A paper on this research was published in PLOS One.