Video: Aluminum pillars de-ice airplanes on the fly
S. Himmelstein | August 02, 2021
De-icing an airplane on the ground is often required to improve flight safety, but ice can reform and adhere to wings after takeoff, undermining safe operation of the craft. A remedy in the form of a water-repellent surface has been engineered by researchers from Virginia Polytechnic Institute and State University and the University of California Santa Barbara.
Instead of being based on chemical coatings, the water-repellent surface uses a simple and durable structure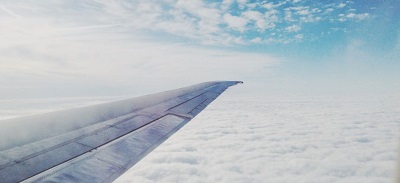 The water-repellent surface could be used to de-ice planes in flight. Source: Andrew Neelin the form of aluminum, millimeter-sized pillars. Frost grows on top of the pillars, creating tiny ice bridges that trap air pockets underneath. The trapped air gaps cause the ice sheet to be suspended, lowering the amount of adhesion ice has to the surface.
The researchers contend that equipping planes with the ability to remove ice during flight at altitudes between 35,000 feet and 42,000 feet would provide a better set of tools to maintain safety.
A paper on this research is published in Physical Review Letters.