Drone Inspection of Oil Tank Cargo Hold
Engineering 360 News Desk | November 10, 2015
Cyberhawk Innovations has carried out what the company says is one of the first drone inspections of a cargo oil tank on a floating production storage and offloading (FPSO) vessel.
According to the company, the inspection took place on board the Gryphon FPSO in the North Sea and demonstrated operational, safety and cost improvements compared with traditional physical assessment methods. The company says it will now offer the service to oil and gas shippers.
Inspection of the vessel, owned and operated by Maersk Oil, was undertaken to visually assess its cargo tanks for integrity, potential damage and class certification. Typically, such assessments are conducted by rope access technicians (RATs) suspended over the tank. They inspect areas of the structure that endure high stress such as stiffeners, brackets, bracing, webs and stringers.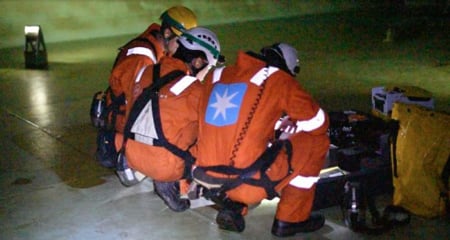 Inspecting the tank with Cyberhawk's ROAV allowed Maersk Oil to undertake a quick and safe audit of the tank, in turn allowing them to identify and more efficiently plan for any possible contact based inspections in both this and other tanks. Source: Cyberhawk RAT work involves sustained periods working at height and in confined spaces. Maersk Oil sought to institute a safer, more efficient inspection scheme. Inspecting the tank with a remote operated aerial vehicle (ROAV) allowed Maersk to undertake a quick and safe audit of the tank, allowing the company to identify and plan for any follow-up physical inspections.
Cyberhawk used a two-man team, which included a remote pilot and an inspection engineer. The inspection was completed within a day, compared with three to four days for a typical rope access inspection. The company now plans to apply this inspection technique to large internal tanks across a range of ships.