Carbon/Flax Auto Roof Lowers Costs, Environmental Footprint
Engineering 360 News Desk | November 10, 2015
A British consortium has developed a carbon/flax hybrid automotive roof that reduces weight and manufacturing cost while improving noise, vibration and harshness (NVH) performance.
The design, created by Delta Motorsport and manufactured by KS Composites as part of the CARBIO project, uses a 50/50 carbon/flax hybrid material. The material, known as Biotex Flax, creates a roof that the developers say is 15% lower cost and 7% lower weight with 58% higher vibration damping than one made wholly from carbon fiber. The hybrid biocomposite, developed by Composites Evolution, has equal bending stiffness to carbon fiber.
The adoption of carbon fiber-epoxy composites by the automotive industry, while effective in improving vehicle fuel efficiency and performance compared to traditional vehicle metals, presents challenges for volume manufacturers. In particular, carbon fiber has poor damping properties and a relatively large environmental footprint.
Compared to carbon, flax—a natural fiber derived from the stem of a flax plant—is renewable, lower in cost, CO2-neutral and can have better vibration damping properties. In addition, it can use bio-epoxy resins based on cashew nut shell liquid that offer what the developers say is enhanced toughness, damping and environmental performance compared with synthetic epoxies.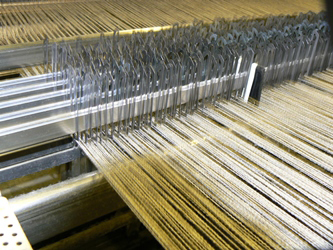 Biotex Flax is used for fiber-reinforced polymer composite applications. Image credit: Composites Evolution. Besides automotive body panels, the carbon/flax hybrid material is being used for secondary structures and decorative trim parts. According to Composites Evolution, the material also has potential uses in the sports and leisure sector (racquets, bike frames, hockey sticks and skis) as well as marine applications (bulkheads and doors).
CARBIO is being funded in part by Innovate UK. Project partners are Composites Evolution, SHD Composite Materials, KS Composites, Delta Motorsport, Jaguar Land Rover and Cranfield University.