Study: The renewable energy-employment nexus in 2050
S. Himmelstein | July 23, 2021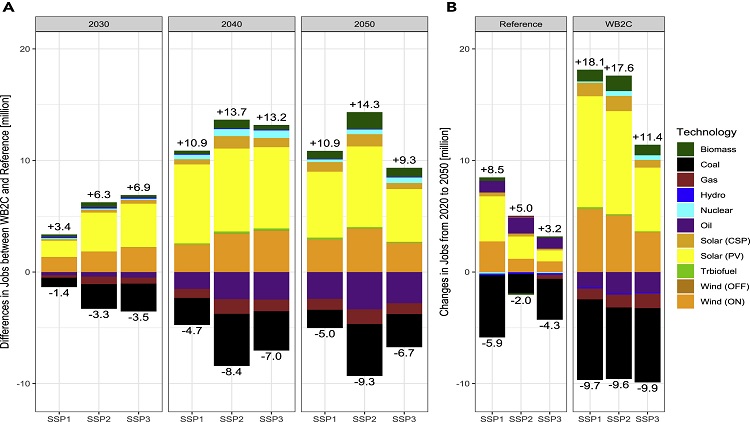 The figure shows the changes in energy sector jobs by energy technology comparing different scenarios. Source: Sandeep Pai et al./One Earth
Of the 18 million people currently employed in the energy sector worldwide, 12 million are at work in the coal, oil and natural gas industries. What are the energy sector job force implications of complying with Paris Agreement climate change targets? The role of fossil fuels will likely decline globally in favor of low carbon energy sources, shifting employment opportunities to renewable energy systems.
The extent of this shift was examined with a new global dataset of employment factors in 50 countries and an integrated assessment model. Of the 26 million total energy sector jobs projected for the year 2050, 84% will be in the renewables sector, 11% in fossil fuels and 5% in nuclear. While fossil fuel extraction jobs -- which constitute 80% of current fossil fuel jobs -- would rapidly decline, these losses will be compensated by gains in solar and wind manufacturing jobs.
Regionally, the Middle East, North Africa, and the U.S. could experience a substantial increase in overall energy jobs with renewable energy expansion, but China may see a decrease with a decline in the coal sector.
Researchers from the University of British Columbia (Canada), Chalmers University of Technology (Sweden) and RFF-CMCC European Institute on Economics and the Environment (Italy) participated in this study.
Access the open-source dataset and code generated during this research, which is published in One Earth.