Study: Wood construction in Finland can be profitable and sustainable
Amy J. Born | July 07, 2021
A study at Aalto University in Finland shows that building with wood may pay off as an investment as well as in terms of offsetting carbon emissions.
Researchers analyzed statistical data from real estate sales in Helsinki and two suburbs from 1999 to 2018. Timber-built homes accounted for 2.23% of the sales and multi-story buildings made out of wood sold for 8.85% more, on average, than homes made from other materials.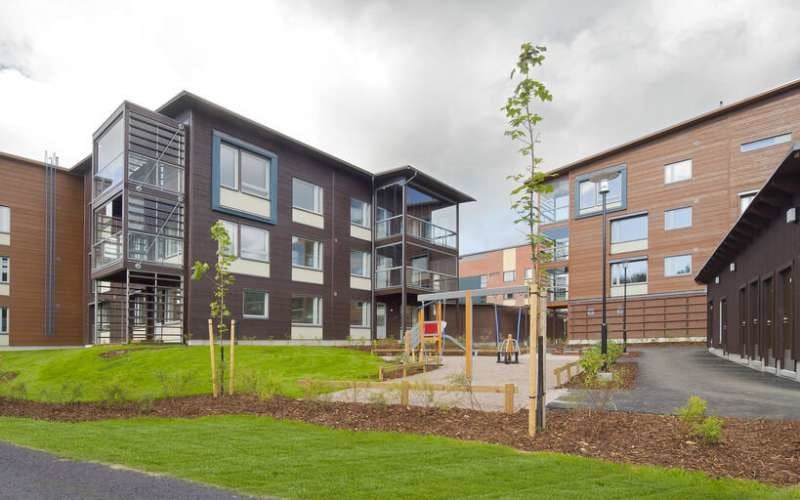 A block of flats made out of wood in Viikki, a neighborhood in the Finnish capital of Helsinki. Source: Hans Koistine
Earlier research suggests that the reluctance of construction companies toward wood construction stemmed from the perception that it costs more. The researchers controlled for other potential factors that affect price using regression analysis.
"At first glance multi-story housing blocks made out of wood appear to be cheaper on average but when we look more closely at the data and control for location, we see that it's economically advantageous to use wood. The results show that wood-based housing is almost 10% more expensive per square meter than concrete-based housing in the same area," explains Seppo Junnila, professor of real estate business at Aalto University.
The differences in price between wood and other construction materials did not exist in the suburbs that were studied. This may be due in part to the willingness of people in these areas to pay for the eco-friendly material.
"These days many consumers value ecological choices, and at the same time, want to communicate their green preferences to others. Our results show that wooden buildings are located more often in areas with lower socio-economic status—wood is what boosts their prices," explained doctoral student Ilmari Talvitie.
"Buyers are willing to pay more for an eco-friendly choice, even if they can't afford to live in the most expensive neighborhoods of the city," said Junnila, adding, "Just legislation isn't enough to meet these goals. We need people to want to live in these kinds of buildings and construction firms need to see them as a business opportunity,"
Despite the reluctance of Finland's construction industry to invest in timber construction, the Ministry of the Environment plans to construct 45% of new multi-storied buildings with wood by 2025.
While research shows that wood construction is an effective way for cities to store carbon emissions, deforestation is a concern worldwide.
"Wood construction is an excellent option in countries like Finland and other Nordic countries, where legislation requires that cut trees be replaced. It's also worth remembering that, globally speaking, deforestation happens for other reasons—not wood construction. If we need a new building, wood is indisputably a good choice for our planet," says Jussi Vimpari, a postdoctoral researcher at Aalto University.
The study is published in Environmental Research: Infrastructure and Sustainability (2021).