Pumper Truck Designed to Fight Difficult-to-Reach Wildfires
Vincent Zandri | November 06, 2015
Fighting wildfires in difficult to navigate terrain such as thickly wooded and/or hazardous mountainous areas may well become a safer proposition with the introduction of an all-terrain fire-fighting pumper truck developed by Howe and Howe Technologies. Dubbed the Bulldog RS-1 by its developers, the off-road fire-fighting system incorporates what the company says is a heavy duty International 6500 4X4 fitted with 54" military-grade tires that allow for a 24" ground clearance.
(Watch a video of the pumper truck in action.)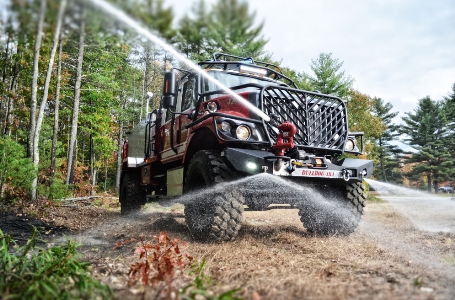 The 26,000lb truck is built for fighting wildfires, but it also can serve as an emergency responder vehicle.Its 1,100-gallon-capacity robotic water delivery system is said to be capable of distributing up to 600 gpm and is operated utilizing multiple roof-mounted hydraulic roving water cannons that are able to adjust or, reach out, to those areas engulfed in flames. Separate water cannons mounted to the vehicle's front are able to deliver its fire-suppressing water payload at a sustained rate of 100-150 PSI.
While the 26,000lb truck is built for fighting wildfires before they can spread into all-out forest fires, it also can serve as an emergency responder vehicle. For instance, the company says that its 15,000 lb-rated winch is capable of rescuing another stranded vehicle or piece of heavy equipment.
Billed by the company as a "revolutionary" means of fighting fires that would otherwise be fought by crews of firefighters on foot, the truck is equipped with a hazmat light system as well as high luminosity work lights for nighttime operations. It can be fitted with a 1,200-gallon-capacity foam tank making it a tool for putting out hard-to-reach fires.