The Packo ZLC rotary lobe pump for demanding hygienic applications
Diana Aoun | June 29, 2021
Sterile stainless steel pump specialist Packo recently launched the latest addition to its portfolio of hygienic pumps. The ZLC, 3A certified process pump showcases the latest technology and design features that are suitable for demanding hygienic applications in the pharmaceutical, biotech and cosmetic industries.
All ZLC pump parts that come into contact with process media are constructed with 100% non-porous, smooth, stainless steel 316L. The pump also features a crevice-free design and electropolished final surface finish to a roughness lower than 0.4 µm (per standard) for perfect cleanability. The pump has a fully drainable design and mechanical seals are placed in a flushed area for enhanced cleanability. The ZLC comes standard with sterile connections and is available in a horizontal or vertical mounting position.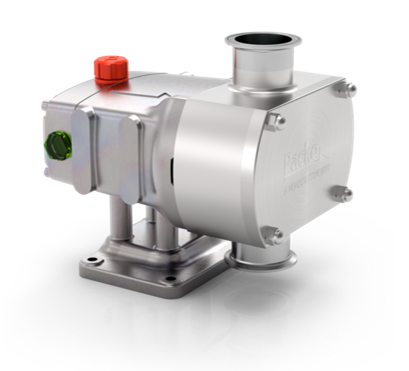 Source: Packo Pumps
Packo also offers a range of additional options depending on specific application requirements such as an investment cast stainless steel gearbox and various rotor types. Single, flushed and double mechanical seal configurations are available as well as O-ring materials in EPDM, FKM, and FFKM. Seals are USP (U.S. Pharmacopeia) Class VI certified.
The Packo ZLC comes with a range of additional certifications including 3A (USA Sanitary Standards), EHEDG (European Hygienic Engineering & Design Group), as well as performance testing, hydrostatic pressure testing, materials certifications and others.
The ZLC has a maximum flow rate of 100 m3/h (440 GPM), a maximum differential pressure of 20 bar (290 psi) and a maximum temperature of 150° C (302° F). It can easily pump liquids with a viscosity of up to 1,000,000 cP.
The Packo ZLC process pump is suitable for a wide range of applications, including cosmetic products such as shampoos, gels, and personal hygiene products as well as medical and pharmaceutical substances that demand the most stringent levels of safety with regard to handling and hygiene.