What does it take to chase tornadoes? The right car, of course.
Seth Price | June 21, 2021
Each spring, thousands of people descend upon the Great Plains in search of severe weather. Their backgrounds vary: from photographers to scientific researchers to tour groups, all of which are seeking out some of the most violent weather on earth.
Thanks to several television shows, the popularity of storm chasing has grown immensely. Before 1996, when the movie Twister hit the big screen, storm chasing was limited to university researchers and a few photographers. By the 2010s, small county roads became packed with storm chasers during major severe weather outbreaks.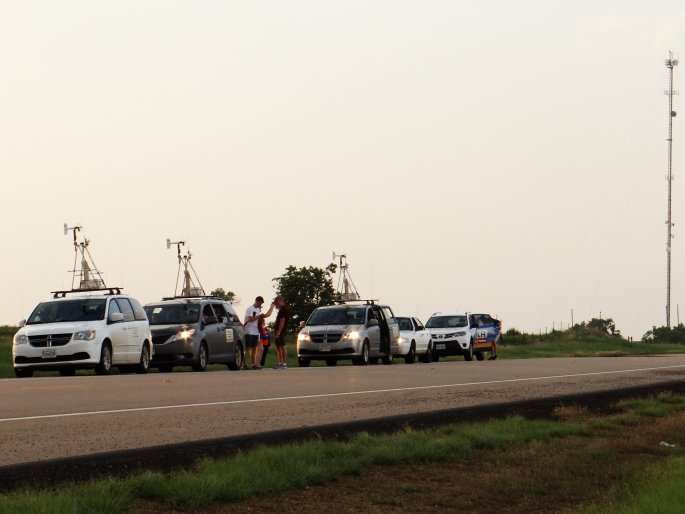 Virginia Tech's meteorology students, plus the author's car and an SUV driven by a reporter.
In these shows, storm chasers often ride around in some form of armored vehicle that has been ruggedized to withstand large hail, strong winds, or in a few cases, a direct hit from a weak tornado. However, with some forecasting knowledge, and an eye for safety, the amateur storm chaser can have many successful storm chase seasons without needing expensive modifications to their vehicle.
Choosing and building the inexpensive yet workable storm chase vehicle involves a little thought. How many people will be chasing? In general, each chaser should have their own door -- there's nothing worse than waiting for a bunch of people to pile into a two door sedan. How long will be spent on the road on an average storm chase? Some folks chase for a weekend, others take a "chasecation" of two weeks once a year. What type of electronics will be needed? It is nice to have a way to charge smartphones, laptops, tablets, and cameras. Also, many storm chasers are also amateur radio operators and run amateur radio equipment during the storm chase.
The model of the car is not very important. In general, the biggest caveat to that is choosing a car for which parts are easy-to-find. For example, the author of this article generally uses a 2002 Chevrolet Malibu or a 2006 Ford Crown Victoria Police Interceptor -- both are fleet vehicles, and parts are readily available in almost every small town. Keep in mind that a week of storm chasing can mean 3,500 miles on the road.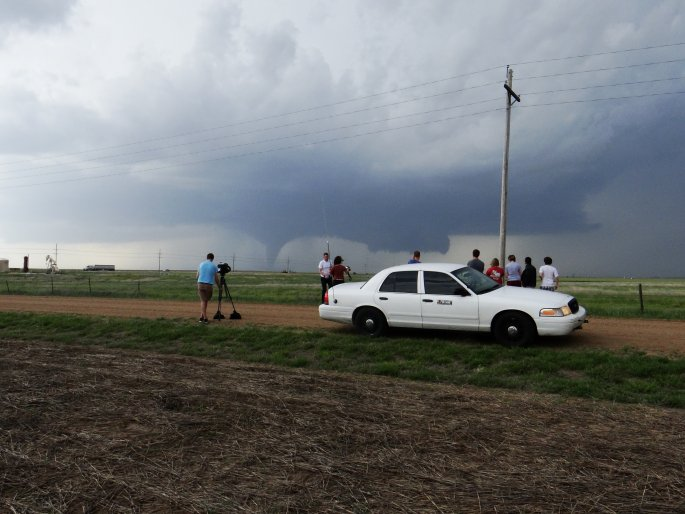 The author's 2006 Crown Victoria on a storm chase south of Dodge City, KS, 5/24/16.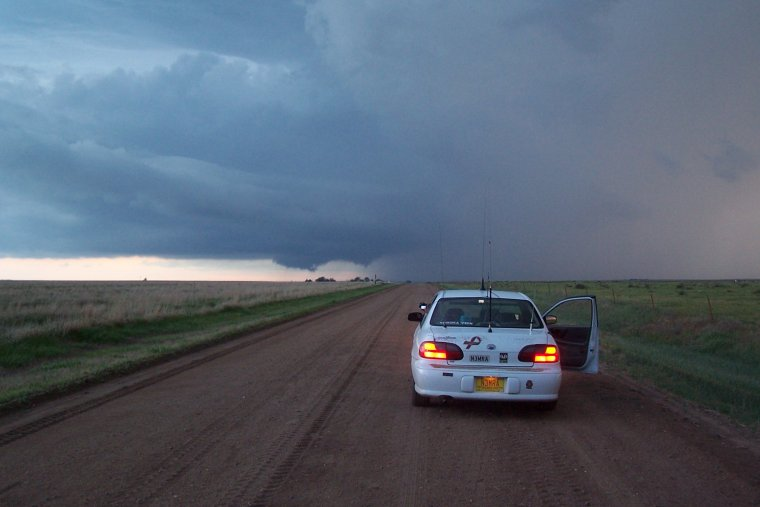 The author's 2002 Chevrolet Malibu on a tornadic supercell near Quinter, KS, on May 25, 2010. Notice the antennas for amateur radio equipment.
Convertibles should be avoided, as large hail will easily penetrate the cloth top. Sun roofs should be covered, and several companies make magnet-mounted guards to protect them. They consist of four strong magnets and a piece of metal grate to break up and bounce away large hail. A high-quality guard will have a space between the grate and the roof of the car, to allow some flexing of the grate on impact.
Some folks like all-wheel drive or four-wheel drive vehicles for storm chasing, as many of the county roads are extremely muddy. It is not necessary, but a nice thing to have in those situations. Careful evaluation of the road conditions, upcoming weather and an understanding of the driver and vehicle capabilities can make a two-wheel drive vehicle adequate for chasing.
Electronics
Probably the biggest feature required of a storm chase vehicle is having adequate support for electronics. This means making sure the alternator is functioning properly and that there are ways to support any USB charging ports or cigarette lighter (12 V ports).
If there are not adequate ports, one can always run a set of heavy-gauge wires from the battery directly into the passenger compartment and add a 12 V outlet. These wires should have a fuse that is rated appropriately for the wires (see the National Electric Code for details). The wires can be routed through a grommet in the firewall, or through the fender and door jam, provided they aren't pinched, or routed over high-heat areas of the engine.
Another useful electronics accessory is an inverter. Many truck stops sell inverters that plug into a 12 V outlet and convert this electrical energy into 120 V AC. This allows storm chasers to plug in camera and laptop chargers. Inverters should be at least 200 W. Be warned, however- many of these inverters do not produce a true sine wave, but instead produce a square wave that happens to be 60 Hz. Without checking it with an oscilloscope, it is impossible to tell how well an inverter is performing. The square wave is tough on laptop chargers and other devices. Charge only when necessary, and do not be surprised when the chargers wear out faster than usual; perhaps even own a spare.
Mounts for devices are also important. Some storm chasers like to take video from the dash, or like to have their smartphone with a radar app easily visible for a quick glance. Mounts should be sturdy and not obstruct the view of the driver. Furthermore, many states do not allow screens to be visible from the driver's seat, so having mounts that can swivel screens can help keep the driver focused on the road. Suction cup mounts that mount to the windshield can work for light objects, though the windshield and suction cup must be perfectly clean. Also, keep in mind that many of these devices will have power cables that must be managed as well. Zip ties and gaffer's tape, used to secure cords on movie sets can help manage the tangles.
Vehicle maintenance
Vehicles for storm chasing must be in good, running order. As a storm chaser, one of the worst feelings is realizing the tires are too old and have too little tread when the road is covered with small hail, mud, or lots of rain from a wet microburst. Storm chasers are prone to stopping and starting quickly, and having good, all-weather tires is a must.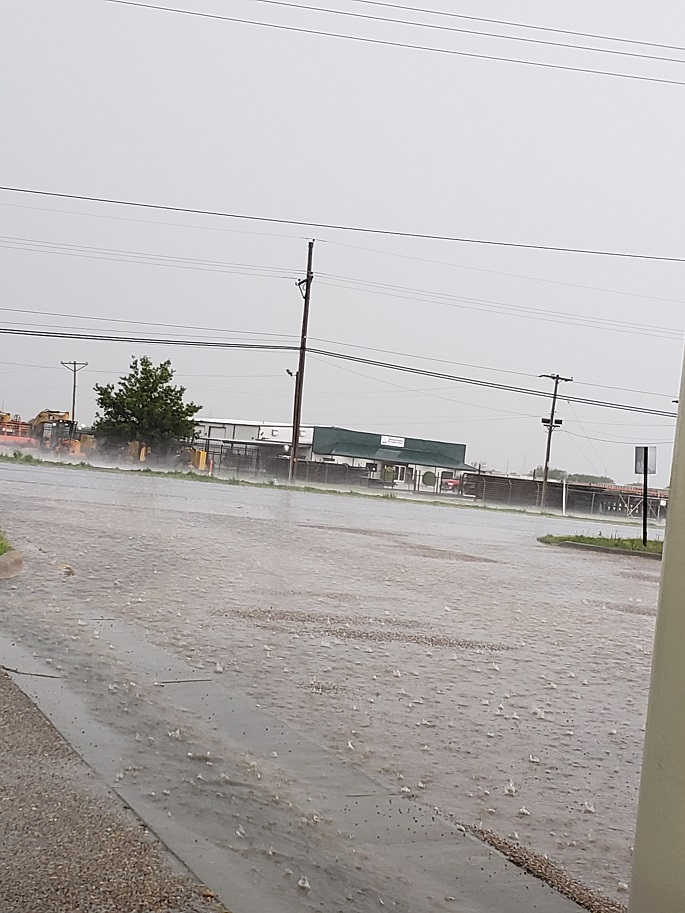 Standing water on the roadway- not the time to find out the tires are bald!
Windshield wipers must be in good, working order as well. Besides the storms, bug splats on the sunny days can ruin visibility through the glass. Storm chasers will describe areas as "raining bugs"; the weather is nice, but there are so many bugs it sounds like rain as they hit the windshield.
Fluids must be kept at appropriate levels, particularly coolant and oil. In the Great Plains, temperatures can reach over 100° F on a good storm chase day, and the vehicle may be running for 10-12 hours, driving and idling in parking lots waiting for storm initiation. Furthermore, due to the sparse population in many areas, gasoline should be topped off whenever possible, as it is routinely 20-30 miles between gas stations in Kansas, and may be 50 miles in parts of western Texas, eastern New Mexico and eastern Colorado.
Headlights must be bright and functional, for both the driver's visibility and other driver's visibility; both seeing the road and BEING seen. Storm chasers stop and park on the sides of the road and in driveways and pull-off spots, and so the more light, the more visible, and safer for everyone. It's worth having an extra headlight or two as well, as even moderately-sized hail, stone kicked up on a gravel road, or a bird strike can break a headlight.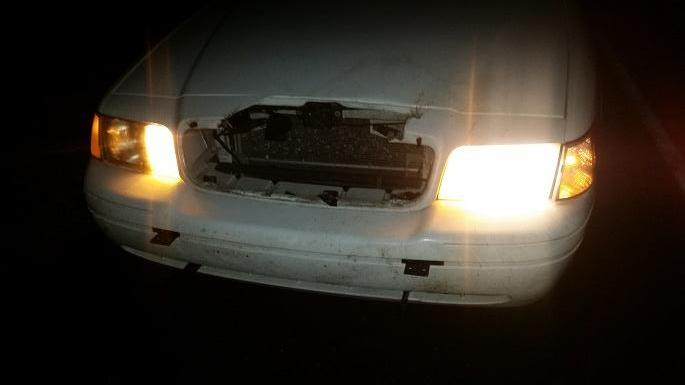 Crown Vic post hitting a deer. The author was able to fix the headlight and get back on the road.
Final note
Overall, virtually any vehicle can be used for storm chasing, if the storm chaser has prepared properly. Before setting out on a storm chasing adventure, join some storm chasing social media groups and practice some forecasting to prepare for finding the safest routes around storms. Also, the National Weather Service offers free Skywarn Training classes to teach the general public about severe weather, and how to report it to them to assist them in issuing severe weather warnings.