Desktop Metal qualifies 4140 via metal binder jetting for mass production
Engineering360 News Desk | June 14, 2021
Desktop Meta, a developer of mass production additive manufacturing (AM) solutions, has qualified the use of 4140 low-alloy steel for its Production System platform, which leverages patent-pending Single Pass Jetting (SPJ) technology designed to achieve the fastest build speeds in the metal AM industry. The company is the first to qualify 4140 low-alloy steel for use with metal binder jetting systems, enabling its use in the mass production of end-use part applications.
Considered one of the most versatile low-alloy steels, 4140 is characterized by its toughness, high tensile strength, and abrasion and impact resistance. It is a critical all-purpose and heat-treatable steel used extensively in a variety of automotive, oil and gas, and industrial applications, such as gears, downhole tool components, couplings, spindles, bolts and nuts, and many other mechanical parts.
Created by the inventors of binder jetting and single-pass inkjet technology, the Production System is an industrial manufacturing platform powered by Desktop Metal's SPJ technology. It is designed to achieve speeds up to 100 times those of legacy powder bed fusion AM technologies and enable production quantities of up to millions of parts per year at costs competitive with conventional mass production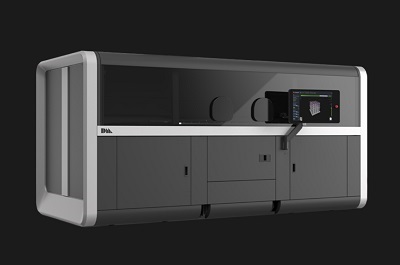 The P-50 system. Source: Desktop Metaltechniques.
The 4140 parts printed on the Production System platform not only eliminate the use of tooling and minimize material waste, but also represent a significant decrease in production time and part cost compared to conventional manufacturing methods.
The Production System platform consists of two printer models: the P-1, a solution for process development and serial production applications, and the P-50, a large form factor mass production solution for end-use parts, scheduled to begin commercial shipments in the second half of 2021. The Production System combines Desktop Metal engineered binders with an open material platform, allowing customers to produce high-performance parts using the same low-cost metal powders used in the metal injection molding industry. An inert processing environment enables compatibility with a variety of materials, including 4140 low-alloy steel as well as other high-performance alloys and even reactive metals, such as aluminum and titanium.