New record set with Chinese artificial sun
S. Himmelstein | June 01, 2021
The Chinese Academy of Sciences reports that the Experimental Advanced Superconducting Tokamak (EAST) at the Institute of Plasma Physics in Hefei has achieved an electron temperature of 120 million° C in its core plasma for 101 seconds. This first fully superconducting tokamak with a non-circular cross section also maintained a plasma temperature of 160 million° C for 20 seconds.
EAST features a large radium at 7 m, minor radium at 2 m, a toroidal magnet field of 6.5-7 Tesla and a plasma current of 13 MA. This recent accomplishment surpasses the world record set by the Korea Superconducting Tokamak Advanced Research (KSTAR) device in November 2020 by maintaining a high temperature plasma for 20 seconds with an ion temperature over 100 million° C.
Power injection exceeded 10 MW and plasma stored energy reached 300 kJ after researchers optimized the coupling of different heating techniques including lower hybrid wave, electron cyclotron wave, ion cyclotron resonance and neutral beam ion heating. The experiment utilized advanced plasma control and theory/simulation prediction and marks progress toward the goal of holding plasma at around 100 million° C for more than 1,000 seconds, or around 17 minutes.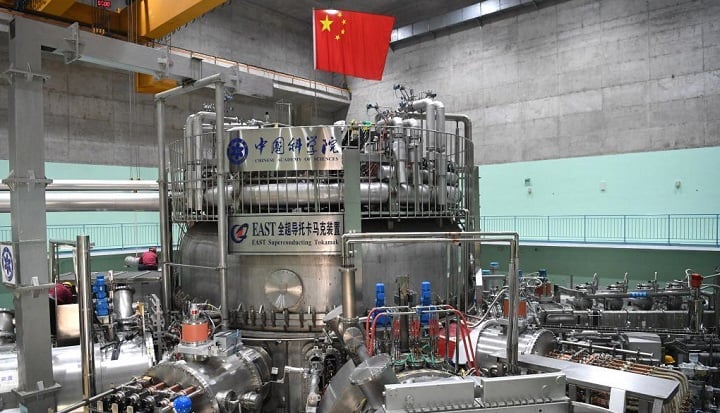 The device achieved an electron temperature of 120 million° C in its core plasma for 101 seconds. Source: Xinhua/Liu Junxi
Research at EAST, referred to as the Chinese artificial sun, is directly relevant to the International Thermonuclear Experimental Reactor (ITER) project, which will be the world's largest nuclear fusion reactor when completed in 2025. Recent experiments on plasma equilibrium and instability, confinement and transport, plasma-wall interaction and energetic particle physics at EAST have demonstrated long-time scale, steady-state H-mode operation with good control of impurity, core/edge magnetohydrodynamic stability, and heat exhaust using an ITER-like tungsten divertor.