Video: Free software weighs energy storage benefits for utilities and businesses
S. Himmelstein | May 27, 2021
New open source software designed to help businesses and utilities in the U.S. assess the value of energy storage is available from U.S. Sandia National Laboratories.
The QuESt simulation system evaluates different energy storage scenarios and models various solutions. A behind-the-meter analysis tool helps business owners or city project managers estimate how much money an energy storage system will save them when combined with solar panels or other power generators. The user inputs a specific location, its associated rate structure and the type of renewable energy system operating or desired at that site. The tool then estimates cost savings from behind-the-meter energy storage for time-of-use and net energy metering customers.
A market-analysis tool informs small utility companies how much revenue an energy storage system would generate by providing services to enhance the grid stability and reliability. The tool has historical data for the seven energy markets in North America, including the Electric Reliability Council of Texas and the California Independent System Operator, each with different market conditions.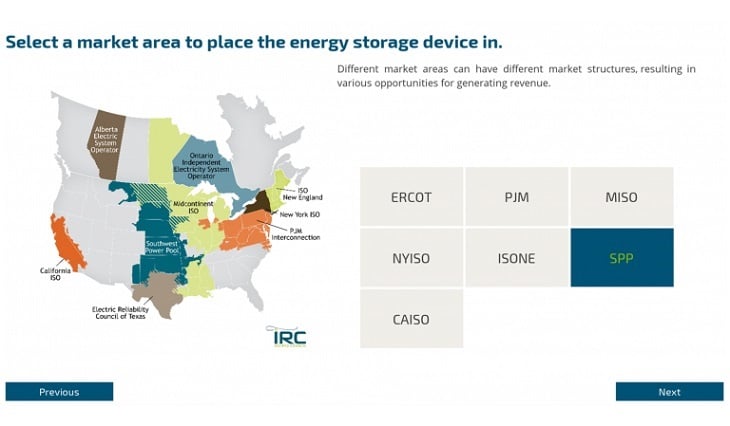 Projected revenues are summarized after a user selects a market area and energy storage device. Source: U.S. Sandia National Laboratories
New capabilities under development for inclusion in future releases of QuESt include a selection tool to help consumers compare different kinds of energy storage technologies depending on their locations and applications. A cost-analysis tool and a method for comparing different battery technologies as they age are also being advanced.