Watch how a divertor takes the heat off tokamak technology
S. Himmelstein | May 26, 2021
The commercial viability of fusion power plants based on the spherical tokamak comes closer to reality with a new technology demonstration by the U.K. Atomic Energy Authority (UKAEA). An exhaust divertor effectively cut the waste heat load affecting the walls of the Mega Amp Spherical Tokamak (MAST-U) ten-fold. The research indicates that exhaust material and other fusion reactor components would not need to be regularly changed, making such power systems more cost-effective by allowing them to be operational for longer.
Inside the recently upgraded MAST-U, light atomic nuclei are fused together to form larger ones, releasing a huge amount of energy in the process. This is achieved by confining plasma within a magnetic field and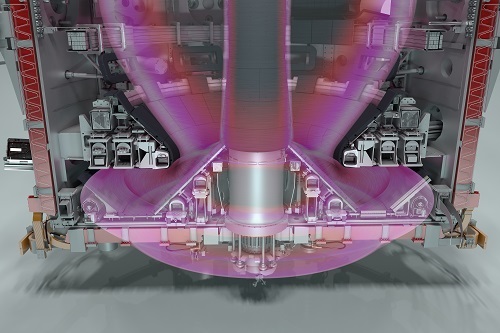 Illustration of Super-X divertor on MAST-U. Source: UKAEAthen heating it to temperatures of around 150 million° C. The hot fusion plasma exhaust is then passed through the new Super-X system divertor to allow it to dissipate excess heat.
Tiled with graphite, Super-X is shaped like a funnel, with the idea being that the plasma load is spread over a larger area as it exits the tokamak. Simulations have shown that the Super-X divertor could decrease the heat flux and plasma temperature in the divertor by taking a 50 MW/m2 heat load and reducing it to just 5 MW/m2.
Such a divertor wall would only need to be replaced once during a power plant's lifetime and might form an essential component of the prototype Spherical Tokamak for Energy Production (STEP) scheduled for completion by 2040.