Emerson presents the ASCO series solenoid valves: Lower power consumption, higher pressure rating, smaller footprint
Diana Aoun | May 03, 2021
Emerson has revealed its new range of two-way and three-way solenoid valves — the ASCO Series 256/356. In this latest offering, Emerson fulfills the industry's growing need for more compact equipment without compromising fluid control performance. The ASCO 256/356 not only has a smaller footprint than other valves on the market, but consumes up to 40% less power while maintaining a 30% higher pressure rating — critical in industrial and commercial applications.
Emerson has optimized the valve body and internal flow path to produce a valve that is more efficient and requires less space. This enables OEMs to optimize the internal layout of their equipment, allowing for high-performance fluid control options to be incorporated into smaller final products. This is of particular importance to manufacturers of coffee machines, heating equipment, air conditioners, analytical and medical devices, pumps, and compressors.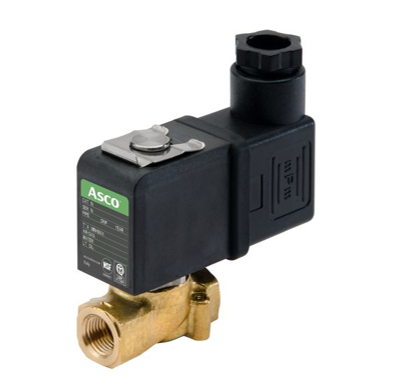 Source: Emerson
Producing a smaller valve while maintaining the same (or higher) pressure rating, typically results in increased power consumption. The ASCO Series 256/356 however, reduces energy use by up to 40%. This enables OEMs to use a smaller valve that matches or improves fluid control performance with respect to previous models while boasting significant energy savings.
The increased pressure rating of some versions of the ASCO Series 256/356 also enables them to be utilized in more demanding applications, such as high-pressure washers and hydrogen fuel dispensers. Emerson has also made improvements to the DC voltage version of the new series, which is now similar to that of the AC voltage version. This reduces overall system costs by eliminating the need to convert to AC power when maximum solenoid valve performance is required.
The ASCO Series 256/356 offers an expanded selection of body materials and connection options. Material options include stainless-steel, lead-free brass and an engineered composite material that is 20% lighter than brass. The valves meet global health and safety standards for food and beverage applications and are IP67-rated, meaning they are dust-tight, and submersible in up to 1 m of water.
The ASCO Series 256/356 has a variety of end-connector options available as well as flexible electrical connections, reducing installation time by up to 40% and simplifying service and maintenance activities.