Coating prevents both fungal and bacterial infections
Marie Donlon | April 15, 2021
Researchers from Australia's Royal Melbourne Institute of Technology, otherwise known as RMIT University, have developed a coating capable of preventing both bacterial and fungal infections.
Applied to wound dressings or implants, nanothin layers of black phosphorous — the thermodynamically stable version of phosphorus at room temperature and pressure — will destroy both bacterial and fungal cells, according to the RMIT team.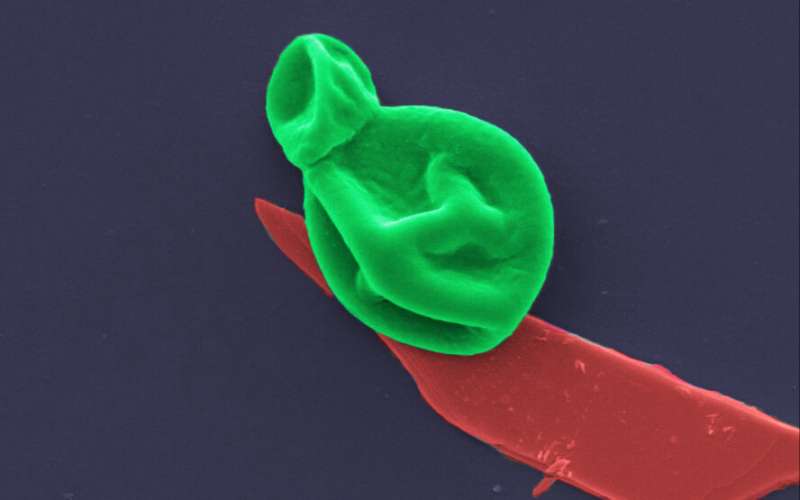 Magnified image of a fungal cell (green) interacting with a nanothin layer of black phosphorous (red). Source: RMIT University
The material, which has proven effective against drug-resistant bacteria, has largely been associated with the development of next-gen electronics. However, researchers determined that when exposed to oxygen, black phosphorous will undergo a process called cellular oxidization wherein the material will break down and oxidize the surfaces of the bacterial and fungal cells, essentially ripping those cells apart.
In the lab, black phosphorous nanothin layers applied to wound dressing were roughly 99% effective against bacterial and fungal cells — specifically, E. coli, drug-resistant MRSA and five types of fungus — in just two hours.
The research appears in the American Chemical Society's journal Applied Materials & Interfaces.