Polymer can be recycled up to seven times without losing quality
Siobhan Treacy | April 13, 2021
Researchers from St. Petersburg University and Russian Academy of Sciences created a plant-based polymer that can be recycled multiple times without losing strength.
Polymers are used every day in plastics, fibers, paint and more. But polymers are often single-use and can release chemical compounds during recycling that are a threat to the environment. There are a few types of polymers that can be recycled multiple times, but often the products made from the secondary raw materials are weak.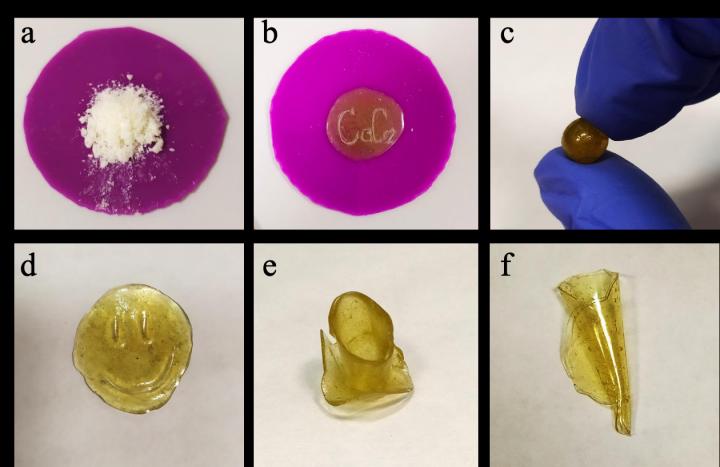 Mechanical treatment of mitranol-based polymers: ? - primary polymer as white powder; b - melted polymer, c-f - various forms of the polymer after being melted repeatedly. Source: SPbU
The team's new polymer is based on biomass compounds. A key component is terpenols, compounds from natural alcohols like methanol from mint essential oil or borneol essential oil found in the white fir tree.
The synthesized polymers could be reused after primary and secondary recycling. During secondary recycling, the polymer-based products can be converted into primary compounds which are then put through polymerization. These polymers can be recycled at moderate temperatures without degrading the quality. If recycled without oxygen, the polymer's natural alcohols or derivatives can be gathered and restored to the original form. These alcohols are widely found in nature and do not harm the environment.
Polymers of this type can be melted at 120 name="_Hlk63418791">° C and shaped to create other products. This process can be repeated seven times and the team found that the polymer properties did not change when melted more than once.
name="_Hlk65491968">
The team plans to continue working on this polymer so a variety of industries can start using it. They plan to study the mechanical properties of the polymers including resilience, elasticity, strength and more.
The study on the new polymer was published in Green Chemistry.