Durian fruit-derived gel bandage promotes wound healing
Marie Donlon | March 30, 2021
Antibacterial gel bandages derived from durian fruit have been created by food scientists at Nanyang Technological University Singapore (NTU Singapore).
Extracting cellulose from the husk of tropical durian fruit, the NTU Singapore team combined it with glycerol — a waste byproduct from the soap and biodiesel industries — to create the soft gel that was cut into bandages.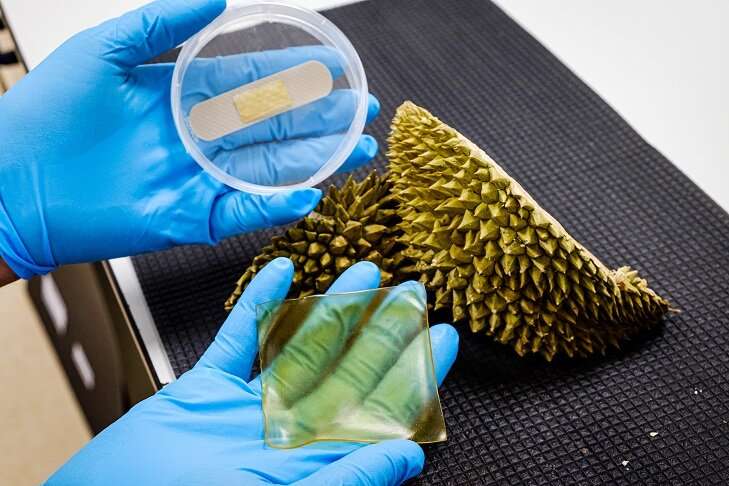 Different sizes of the durian-derived hydrogel patch, where it can be made large for surgical wounds or cut smaller for typical bandage size. Source: Nanyang Technological University
Once the bandages were created, the scientists then added natural yeast phenolics — organic molecules from baker's yeast — to the bandage to imbue the bandages with antimicrobial properties.
According to the team of NTU scientists, turning durian husk waste into a biomedical resource removes waste from landfills and potentially reduces the environmental footprint of conventional synthetic bandages.
The study — Food Waste Durian Rind-Derived Cellulose Organohydrogels: Toward Anti-Freezing and Antimicrobial Wound Dressing — appears in the journal ACS Sustainable Chemistry and Engineering.