Natural gas foam may limit the water necessary for fracking
Marie Donlon | March 18, 2021
Researchers from the Southwest Research Institute in Texas have determined that natural gas foam can be used in lieu of water for hydraulic fracturing, or fracking, applications.
The fracking process — which involves injecting high-pressure fluids into underground wells, fracturing rock formations and stimulating the flow of oil and natural gas — demands millions of gallons of water. Because fracking sites are not always located near sources of water, the team developed the natural gas foam using standard compressors to pressurize natural gas and then mix it with water.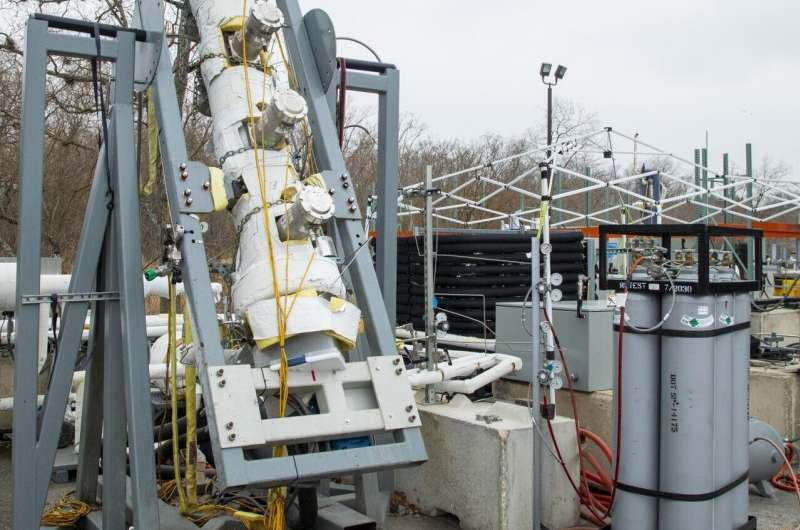 A pilot-scale facility is being designed to create and test natural gas foam as a safe and stable alternative to water for fracking. Source: Southwest Research Institute
As the natural gas stream is jetted into the pressurized water, the foam is created. Once developed, researchers believe that the foam could reduce the amount of water used in fracking operations by an estimated 80% and could increase the amount of oil produced.
"We created a reservoir model to test the foam's efficiency," said Griffin Beck, the project's principal investigator. "We compared production to a reservoir treated with water and with natural gas foam. The model showed a 25% improvement in cumulative oil production."
Additionally, the foam would eliminate the need to transport gallons and gallons of water to a fracking site, thereby limiting the toll transporting the water would take on the environment.
The team from the Southwest Research Institute hopes to soon test the foam in the field. In the meantime, the foam will be tested in the institute's new testing facility, which is expected to be completed in March 2021.