New COTS/MOTS ratified 50 W to 1200 W power solutions
Engineering360 News Desk | March 02, 2021
Powerbox now offers a series of new power supplies for defense applications and demanding industrial applications. The series includes three DC/DC (DAA-DAB-DAC) and four AC/DC (DBA-DBB-DBC-DBD) models with a power range of 50 W up to 1,200 W.
In metal chassis format with a baseplate for conduction cooling, the DAx and DBx series can be used with a baseplate operating temperature range of -40° C up to 100° C. For extremely demanding applications, they can be configured with a conformal coating and mechanically and electrically ruggedized to withstand harsh transients and demanding electromagnetic compatibility performance requirements as required with most common defense, marine, avionics, rugged industrial and railway standards. Designed for high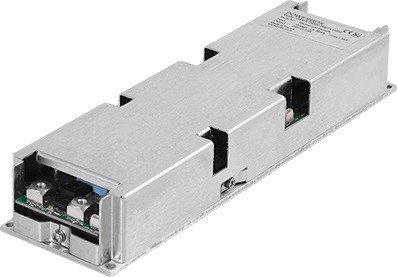 Source: Powerboxavailability, short time-to-market and to meet commercial and military off-the-shelf (COTS/MOTS) business models, the modular build style of the DAx and DBx series allows up to six outputs, which can be connected in serial, parallel or used as a standalone output.
Ready to use out of the box, Defense Line DC/DC DAA/DAB/DAC power supplies include an efficient input filter, reverse voltage protection internal diode, input transient protection and an internal fuse to protect against damage in the event of failure. Each output is protected against accidental and permanent short-circuit situations. An internal over-temperature circuit protects the units in the case of overheating, with automatic recovery.
To cover the large range of applications in defense or ruggedized industrial areas, the DAA/DAB/DAC series is available for use with five input bus voltages of 12 V DC, 24 V DC, 48 V DC, 72 V DC and 110 V DC and with a large range of output voltages from 3.3 V DC up to 48 V DC.