Underwater robot to assist lifeguards in life-saving operations
Marie Donlon | March 02, 2021
Researchers from the Fraunhofer Institute for Optronics, System Technologies and Image Exploitation IOSB in Germany have developed a floating underwater rescue robot to assist lifeguards at swimming pools and lakes.
Amid a shortage of skilled lifeguards at Germany's pools and recreational swimming lakes, the Fraunhofer researchers developed an underwater robot capable of assisting lifeguards by rescuing distressed swimmers.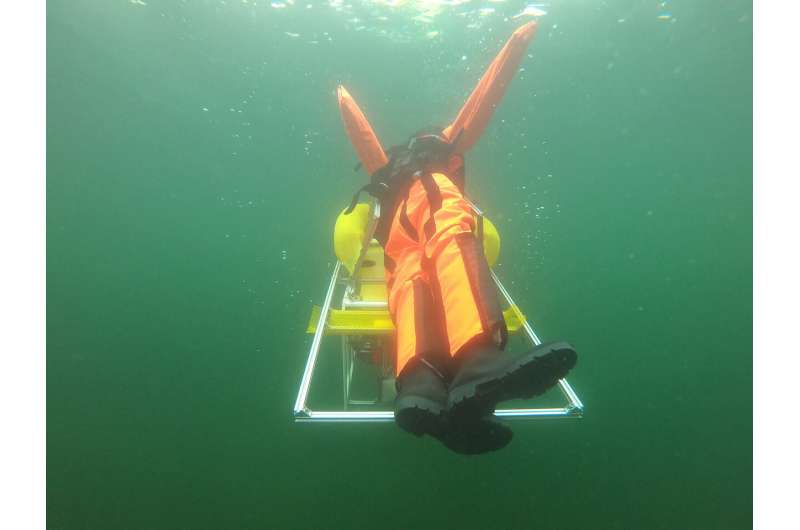 Source: S.Thomas (Wasserwacht Halle)
The robot, which features batteries, a motor, cameras, and optical and navigational sensors, works in conjunction with a network of surveillance cameras fixed to the ceiling of swimming pools. These cameras reportedly recognize the motions and positions of a drowning person and that person's coordinates are sent to a robot located out of sight on the pool floor. Once located, the robot is activated, locates the swimmer and carries the distressed swimmer to safety.
The technology works much the same way at the lake, with drones and zeppelin technology serving as the overhead surveillance system, activating the robot when the surveillance system detects a distressed swimmer.
During a mock rescue operation at a lake, the robot carried a dummy to safety in an operation that lasted just two minutes, according to researchers.
Going forward, the team intends to reduce the size of the system — which is currently 90 cm long, 50 cm high and 50 cm wide — making it smaller, lighter and more cost-effective than the current prototype. Additionally, the team intends to make swimming pool and lake specific iterations of the robot with a design that mimics the manta ray.