Video: Sealing surgical wounds with an origami-inspired medical patch
S. Himmelstein | February 12, 2021
Minimally invasive surgical procedures present patients with reduced pain and recovery times still require technology to repair internal injuries and seal tissues. Inspired by origami, researchers from the Mayo Clinic and MIT developed a bioadhesive patch that can be delivered to affected sites through narrow spaces, such as airways and intestines, at the tip of surgical tools.
The biodegradable patches are folded at the end of the tools and unfold when pressed into place at the target site. Designed to resist contamination when exposed to bacteria and bodily fluids, the dry papery patch transforms into a sticky gel to protect and hold together tissue during the healing process.
In the center of the three-layered patch is a bioadhesive hydrogel embedded with N-hydroxysuccinimide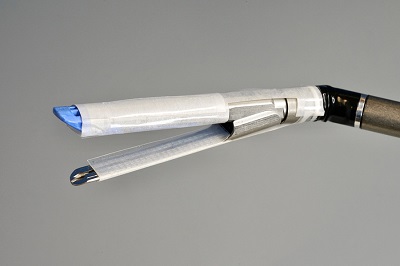 The origami-inspired medical patch can be folded over surgical tools and threaded through the body to suture tissues and organs. Source: MITesters. When exposed to a wet surface, the gel absorbs moisture and becomes pliable and elastic, allowing it to conform to contours of the biological tissue as the esters form strong bonds with compounds in the tissue's surface and create a seal.
The bottom layer is coated with silicone oil to prevent adhesion to other surfaces before the target is reached. At the desired site, pressure applied by the laparoscopic tool squeezes the oil out and allows the adhesive middle layer to make contact. An elastomer film containing zwitterionic polymers forms the top layer, which functions as a water-based skin-like barrier to prevent the entry of microbes.
The researchers demonstrated origami-inspired techniques to fold the adhesive around instruments commonly used in minimally invasive surgeries, such as a balloon catheter and a surgical stapler. The patches were successfully delivered through the trachea, esophagus, aorta and intestines of porcine models, which displayed no signs of bacterial contamination or infection one month after application.
The research is reported in Advanced Materials.