New tank outlet valve added to SPX Flow APV D4 series saves time and money
Diana Aoun | February 11, 2021
The new DT4 tank outlet mix proof valve by SPX is the latest offering in the renowned D4 series of hygienic double seat mix proof valves. The innovative new model promises to save time and money by enabling reliable separation between the tank and servicing pipeline. This allows operators to clean the pipeline without having to empty the associated tank, saving down-time and operating cost.
The new DT4 model augments the D4 series used for applications that require reliable separation of dissimilar fluids such as process and CIP (clean in place) solutions.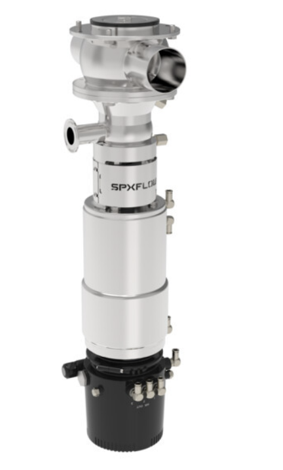 Source: SPX
The DT4 mix proof valve comes with standard features including a seat lift actuator and cross-port housing. It has been designed with two independently operating seats that separate the tank and pipeline when the valve is in the closed position. The atmospheric vent cavity between the seats creates an exit path in the event of seal failure. The valve also features a drain for CIP solution during seat cleaning. External CIP spray flush connections are included as standard and provide enhanced cleaning of the leakage vent cavity as well as the lower shaft.
Other notable features of the DT4 mix proof tank outlet valve include:
Long valve stroke enabling gentle product handling and low flow resistance.
Balanced design to prevent hydraulic blocking and flexible flow direction without slamming.
Heavy-duty bolted flange connection between tank and housing/insert to provide secure, controlled assembly and disassembly of valve insert.
Range of control units and bus communication options available for automated operation.
The DT4 can maintain a tank side holding pressure greater than 5 bar (73 PSI) and has minimal air consumption and air supply requirements (no compressed air needed for removal and servicing). It is available in sizes DN 40 to 100 (1.5 in to 4 in outer diameter tube).
The DT4 has been designed to meet the highest global hygienic standards. It is suitable for a wide range of applications including food and drink processing, pharmaceutical processing, chemical processing and cosmetics.