EGGER's EOA and EOSA series wastewater pumps for the economic transfer of difficult fluids
Diana Aoun | February 11, 2021
Swiss pump giant EGGER has revealed the latest addition to its portfolio of wastewater pumps. The EOA/EOSA series wastewater pumps have been specifically designed for the economical transfer of fluids with high solids, gas and fibrous content.
The EOA model boasts a semi-open two-channel impeller for the transfer of untreated wastewater with a high fiber content. The EOSA model has been designed with a semi-open multi-channel impeller with maximum free passages for pumping sludges with high fiber and gas content. Both models are suitable for a range of wastewater applications including intermediate pumping stations, secondary sludge, activated/recirculated sludge, stabilized digested sludge and industrial wastewater.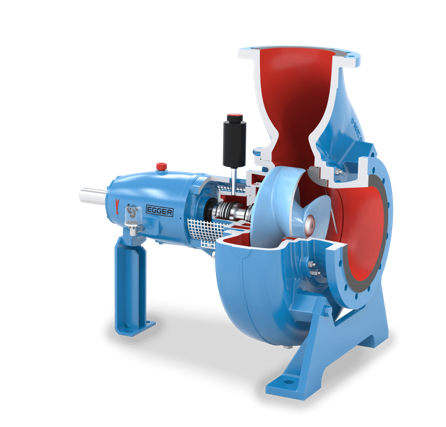 Source: EGGER
The EGGER EOA/EOSA series pumps come with a range of advantages that make it stand out from conventional wastewater pumps. The key lies in the ingeniously engineered impellers which enable:
Pumping of difficult fluids with a high hydraulic efficiency, contributing to low energy costs.
Resistance to imbalances caused by fibrous materials, which contributes to a long service life of the bearings and sealing system.
High suction capability due to special impeller blade geometry, thus requiring low NPSH.
Self-cleaning due to open-channel, free-passage design, which promotes smooth non-clogging operation.
Additional features include a constant delivery rate via the wear plate, which can be adjusted from the outside of the pump (suction side). The pumps can also pump fluids with a high gas content without malfunctioning, which is particularly important for digested sludge transfer.
The EGGER EOA/EOSA series pumps are available in sizes DN 80 – 400 mm (3 in to 16 in) and can handle flow rates up to 1100 L/s (15850 US gpm). They can operate with a differential head of up to 140 m (460 ft), pressures up to 16 bar (323 psi) and temperatures as high as 120° C (250° F). The pumps come in wet or dry mounted models, as well as vertical or horizontal designs for further flexibility.