The MDX heavy duty slurry pump from GIW promises high performance in tough conditions
Diana Aoun | January 26, 2021
GIW Minerals, a leading manufacturer of wear-resistant slurry pumps for the mining and hard rock industries (and subsidiary of KSB), has redesigned its heavy-duty slurry pump, the Mill Duty Extra Heavy (MDX) pump. The MDX pump is designed to withstand the severe conditions in hard rock mining and slurry applications. With recent design upgrades, GIW claims that the MDX showcases "unparalleled rugged design and reliable operation."
Poor performing mill pumps continue to be a major issue for operators worldwide, causing costly unplanned shutdowns that require intensive maintenance and repair on a regular basis. The harsh operating conditions within which mill pumps must operate and the nature of the process fluids, means wear life is often short and outages unpredictable.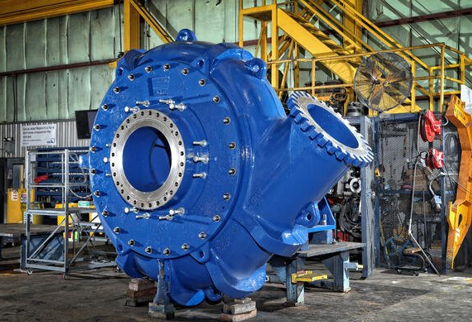 Source: GIW-KSN
The MDX pump has been designed using advanced hydraulic technology to deliver a predictable wear life, therefore reducing total cost of ownership (TCO) by reducing unplanned plant outages. In addition, GIW uses its patented material technology 'Endurasite' (a white iron alloy), which is capable of withstanding the effects of abrasion for extended periods, thus extending pump wear life.
GIW also provides customers with the option of the remotely adjusted mechanical suction liner (RAMSL). This feature improves maintenance procedures on the pump by enabling remote adjustments to the internal clearance between the impeller nose and the suction liner. With RAMSL, customers can significantly reduce maintenance time and risk.
Other notable design features of the MDX include:
A deep base circle that limits aggressive particle impingement that facilitates a sliding wear action and reduces abrasive wear.
An inlet five-vane impeller designed to handle slurries in the liquid and solid phases.
Oversized shrouds for superior vane performance and clearing action, which helps minimize recirculation and wear between the impeller and suction liner.
The MDX has been designed for a wide range of discharge sizes (150 mm to 750 mm), and flow rates up to 14,000m³/h (61,640 US gpm). It can reach a maximum head of 51 m and features a pressure rating up to 150 psi. The MDX is particularly suitable for hard rock applications but can perform equally well in a range of applications, including semi-autogenous (SAG) and ball mill circuits, ball and rod mill discharge, cyclone and screen feed.