Watch: Robotic X-ray inspection improves cast automotive wheel production
Amy J. Born | January 18, 2021
An integrated industrial robot enables the HeiDetect Wheel Robot wheel inspection system from HEITEC PTS to achieve extremely high throughput, making it ideal for inline operation in the mass production of cast aluminum automotive wheels. Using the large X-ray detector, several areas of the wheel can be tested in one position, reducing the number of steps to test each wheel and shortening the time it takes.
With HeiDetect Wheel Robot, stable image quality is achieved with almost pseudo error-free evaluation thanks to a fully automatic wheel test facility, the integration of the ISAR image evaluation software developed by Fraunhofer Institute for Integrated Circuits and the 400 mm x 200 mm XEye detector. Casting errors such as shrink holes, pores, cavities and foreign matter in the range of 3% of the radiographer wall thickness can be detected and classified, as well as large areas of oxide from 1% of the wall thickness.
The ISAR evaluation software automatically evaluates X-ray images with automatic defect recognition for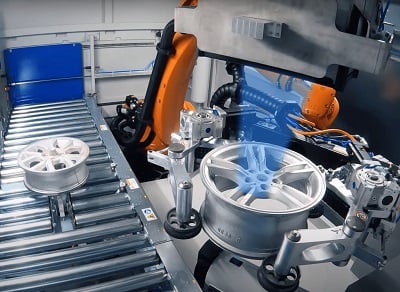 HeiDetect Wheel Robot. Source: HEITEC PTSproduction monitoring. Cavities, pores and other standard defects are reliably detected with defect algorithms. Algorithms for special tasks such as character recognition and low-contrast defects focus on integrating the testing seamlessly into the production process. Test programs for new types of wheels can be generated offline and synchronized to the production X-ray inspection system.
The evaluation software has an ergonomic, Windows-based, graphic user interface. The test parameters can be set individually for original equipment manufacturer wheel variants and specifications. Prepared test results are transmitted in real-time to production allowing for trend analysis and continuous product quality optimization to minimize scrap.
Barcodes can be incorporated to allow specification of the wheel alignment and monitoring of associated test results. Wheel sizes from 13 in to 24 in as well as spokes and hub can be captured with one image.
With its compact installation space and full enclosure, the system can be easily incorporated into the production process, even in extreme production conditions. The design of the wheel gripper allows wheels with a faulty rim flange to be tested.
The detector has a very low degradation rate and should last for at least 10 years before needing replacement.